Five New Albums to Add to My Music Library from Tunes Used CD Store
Yesterday in the post re-introducing Me, Myself, Music and Mysteries I wrote that previously I had found a lot of music at Tunes in Marlton, NJ.That action reminded me that I still had a $15.00 Gift Card to Tunes that my son Peter had given me about a year ago. So…. after finishing the post and no Eagles game to watch I decided to make a trip to Tunes. I really haven't been to Tunes much since my kids have grown and online music sources like Rhapsody and Spotify have come into existence.It's really a lot easier to check out new music from the comfort of your own house.
The trip today though reconfirmed that I really enjoy scouring the bins looking for those special bargains on great music. Sometimes the bargains are albums from musicians you know. Other times you may find an album from someone you have never heard. But because the price is so low you can take a chance on the album. The albums that I found  yesterday are all from musicians that I a familiar. Some of the albums I have even written about on this blog. Anyway, here are the five albums that I bought with my $15.00!!
The Five Albums
Two of the albums that I found at Tunes yesterday I have previously listened to and enjoyed. However, I listened to them on Spotify, and I don't have the physical CD. So it's great to have them…..They are
Hot Rize – When I'm Free
Released in 2014, When I'm Free was Hot Rize's first studio album in 24 years.
When I started to listen to a lot of music and collecting CDs, thanks to the used CD bins at Tunes in Marlton, in the early 2000s,  I found the music of Tim O'Brien, an amazing multi-instrumentalist and singer.  I also discovered the music of guitarist Charles Sawtelle. It took a while before I stumbled upon a great bluegrass album So Long a Journey (2002)  from the band Hot Rize. I discovered that both O'Brien and Sawtelle were members of the band, along with  Pete Wernick, and Nick Forster. Subsequently, I discovered that the album was a live album that had been recorded in 1996 and was a reunion album of  the band, that had retired in 1990. In 1990, the members had parted ways and went on to have distinguished solo careers Conitnue Reading
The Lonely Heartstring Band  – Deep Waters
From My Previous Post

Among the albums that were released this Friday was Deep Waters the debut release on Rounder Records from the Boston-based band The Lonely Heartstring Band. Ken Irwin, a founder of Rounder Records, said

"The Lonely Heartstring Band is not only one of the most exciting bands musically we've heard in a while, but they combine artistry with a great attitude and commitment that makes them irresistible. Plus, they've just made an amazing record"

After listening to the album yesterday and today, I totally agree Deep Waters is a great album and these 2015 IBMA Momentum Award winners can flat-out bring it. Great pickin' and singin'!  Four out the five members of the band met as students at the Berklee College of Music, which says volumes about their respective musical abilities in my eyes and ears. The band was founded in 2012 by Charles Clements (bass & vocals), George Clements (guitar & lead vocals), Gabe Hirshfeld (banjo), Patrick M'Gonigle (fiddle, vocals), and Matt Witler (mandolin). Since its founding the band has built a devoted following playing and headlining at major music festivals and historic venues from Western Canada to California, from Kentucky to New Hampshire. – Read More
The other three albums are all jazz albums.
Miles Davis – Birth of Cool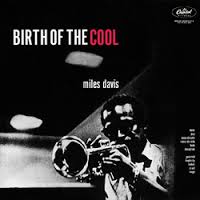 I wore out Miles's Bitches Brew when it was in college. Since then I have listened to and  enjoyed a lot of his other albums. However, Birth of Cool was not in my music library until now!
From: AllMusic Review by Stephen Thomas Erlewine
So dubbed because these three sessions — two from early 1949, one from March 1950 — are where the sound known as cool jazz essentially formed, Birth of the Cool remains one of the defining, pivotal moments in jazz. This is where the elasticity of bop was married with skillful, big-band arrangements and a relaxed, subdued mood that made it all seem easy, even at its most intricate. After all, there's a reason why this music was called cool; it has a hip, detached elegance, never getting too hot, even as the rhythms skip and jump. Indeed, the most remarkable thing about these sessions — arranged by Gil Evans and featuring such heavy-hitters as Kai Winding, Gerry Mulligan, Lee Konitz, and Max Roach — is that they sound intimate, as the nonet never pushes too hard, never sounds like the work of nine musicians.

Furthermore, the group keeps things short and concise (probably the result of the running time of singles, but the results are the same), which keeps the focus on the tones and tunes. The virtuosity led to relaxing, stylish mood music as the end result — the very thing that came to define West Coast or "cool" jazz — but this music is so inventive, it remains alluring even after its influence has been thoroughly absorbed into the mainstream Read More at AllMusic
Here is a past post about Lee Konitz who played on Birth of Cool 
Bud Powell – The Best of Bud Powell – The Blue Note Years
This album contains fifteen tracks from the following albums recorded on the Blue Note label. The tracks were recorded and released between 1957 and 1958. The critic's rating on all of the individual albums are either 4 or 4.5 stars out of five! So, I think that I am going to enjoy this collection!
1957–58: Bud Plays Bird (Roulette / Blue Note)
1958: Time Waits: The Amazing Bud Powell (Vol. 4) (Blue Note)
1958: The Scene Changes: The Amazing Bud Powell (Blue Note)
Powell's band mates on the various tracks include:
Fats Navaro, trumpet,
Sonny Rollins, tenor sax,
Max Roach and Philly Joe Jones, drums!
Yes, I think that I will really like this CD!! Here  is a link to  short post  I wrote about Bud on his birthday!
The Mahavishnu Orchestra with John McLaughin- The Inner Mounting Flame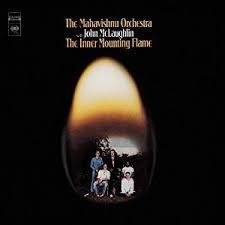 Columbia released The Inner Mounting Flame in 1971. I know I listened to it way back when, but somehow it never made it into my music library. Thank you Tunes and Peter for taking care of that!
From the AllMusic Review by Richard S. Ginel
This is the album that made John McLaughlin a semi-household name, a furious, high-energy, yet rigorously conceived meeting of virtuosos that, for all intents and purposes, defined the fusion of jazz and rock a year after Miles Davis' Bitches Brew breakthrough. It also inadvertently led to the derogatory connotation of the word fusion, for it paved the way for an army of imitators, many of whose excesses and commercial panderings devalued the entire movement.

Though much was made of the influence of jazz-influenced improvisation in the Mahavishnu band, it is the rock element that predominates, stemming directly from the electronic innovations of Jimi Hendrix. The improvisations, particularly McLaughlin's post-Hendrix machine-gun assaults on double-necked electric guitar and Jerry Goodman's flights on electric violin, owe more to the freakouts that had been circulating in progressive rock circles than to jazz, based as they often are on ostinatos on one chord. Read More
The Inner Mounting Flame is one of the 1,000 recordings in the book,1,000 Recordings to Hear Before You Die. (Note: My son Andrew gave me this book fpr Father's Day.. You think he was trying to tell me something?)Just joking! Anyway the next time I listen to the album I guess I'll only have 999 to go! Of course I actually have less because I know I have herd many of the albums already!!
At the end of each article there is a box that lists various information about the album. The information listed includes: the genre of the album, its release date, along with key tracks and  a catalog choice track.The final two  fields are the Next Stop and  After That. After The Inner Mounting Flame the next stop is King Crimson's Larks' Tongues in Aspic.  After That  –Tortoise's TNT. I know I have heard the King Crimson album, but I don't know Tortoise's TNT. So I'm off to find it!
So overall, I think I got a pretty good haul for my $15.00. Actually, I have to cnfess that the total bill came to $17.08. Which is still almost equal to the price of one CD! So by for now I have some listening and ripping to do!!