Circles of 8 by Holland Phillips Becomes a Movement Meditation Staple
Over the last week I have continued to do movement yoga for 5 to 10 minutes at the beginning of my morning yoga routine. It seems to get me both moving and grounded at the same time. I have used a few different albums. The first one was Immortelle by Deuter and most recently Marika Takeuchi's Colors in the Diary. For several days in between those two albums, I used Holland Phillip's most recent release Circles of 8. Since most of my body and arm movements are movements are figure eights, I  thought the album would fit perfectly and it does.
Circles of 8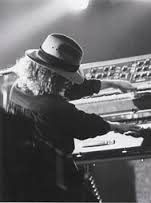 Circles of 8 is the fifth release from synthesizer master and multi-instrumentalist Holland Phillips. It is based on the resonances from the circles of life and the vibrations that are the building blocks of life.
Holland writes this about the album
"Life is full of circles,"…"There is also a theory by some scientists that 8 hertz is one of the fundamental frequencies, an inherent rhythm of life itself that is a part of everything that makes us who we are. We all know about meeting a person and immediately feeling either good or bad vibrations, meshing with a group or not, feelings that possibly affect whether we form friendships or find love. So with this music I decided to explore those resonances that we all feel in life, and let the vibrations lead me creatively"
And those vibrations have done a good job starting my yoga off on the right track!
The Instruments and a Track
Holland Phillips used all his multi-instrumental talents on Circles of 8. The album starts with piano and synthesizer, and then blends in the sounds of a wide variety of other instruments including: oboe, cello, violin, clarinet , trumpet, electric piano, fretless bass, harpsichord, percussion. Holland also plays electric guitar on two tracks. His past collaborator and friend Paul Christensen again helps out by playing saxophone on two tracks.
The track that I have probably played the most is the opening track "Starting Over". It is the first piece Phillips wrote for the album. He says….
"This was not only the start of the album, but a new beginning."… "The feel for the whole album flowed from that first creation." "The inspiration for the tune, "Night Tracks" came from "the excitement and anticipation that a child feels sneaking around, running and playing games in a darkened backyard. It gave me th opportunity to explore the sound of a cello which perfectly conveyed the emotions.
Ok so now I have to go back and listen to "Night Tracks" as I remember those feelings I had playing hide and seek in our side yard as night was approaching. As I listen, I'll have to see if that cello does convey those emotions!!
Holland Phillips Music Journey
So how did Holland Phillips become a multi-instrumentalist and a composer. First he grew up in Connecticut where his mother taught music.  He started playing piano at an early age and by eight he moved on to guitar. Then he started to play any instrument that his mother brought home – trombone, tube, flute, percussion. He also enjoyed picking up an instrument play a few notes and then start writing a song using it!
" I started learning lots of instruments as a child because we always had them laying about." Phillips explains "As a music composition major, I had a professor who requested I play all the instruments in a symphony orchestra before writing scores for them. So I worked my way through dozens of instruments. I think it helps me compose because when I use a synthesizer
From High School Through College
As he moved along his musical pathway, Phillips was initially influenced by Top 40 and Big Band music when he was young. When he was in high school he moved on to the good stuff, rock bands like Pink Floyd, Styx, Rush, Kansas and others. During the four years he spent earning his B A Degree in Music Composition he continued to take guitar and piano lessons. He remembers:
I immersed myself in classical music, especially Beethoven, Bach, Chopin and Tchaikovsky. I had to analyze everything from the classics to pop music and then write etudes and sonatas. For a couple of my finals I has a full orchestra play one of my pieces and a choir sing one of my compositions . It;'s something I hope to do again on a future album"
Post Graduation
After he graduated Phillips again immersed himself in music. This time though it was in a variety of music. He played in a folk duo and then joined a Southern Rock band. That was followed by becoming a member of a classic rock group. The next stop was an ensemble that played show tunes! In whatever situation he played in he tried to learn that style thoroughly and become proficient playing that type of music.  After many successful tours across the US and Canada he settled down in Ohio  where he became an in-demand session player. Phillips states….
" I always liked a variety of music whether it was Yes, Journey or Beck. I was especially influenced by Rick Wakeman and his solo albums, and by Alan Parsons as a producer and arranger. I found Wakeman, Vangelis and Wendy Carlos interesting because they we doing more electronic instrumental music before almost anyone else. The led me to start recording instrumental albums."
What's Next for Me and Explorations for You
So now we have explored a little about Holland Phillips fifth album Circles of 8. Which is for me a four-thumbs up album. And an album that know I will be using in the future for movement meditations! In addition we have also explored a little about  Holland's music journey.  We have learned about hiss journey from its beginnings until he started recording instrumental albums. Now what I need to do is go back and explore Phillip's first four albums. As for you, if you haven't already you should check out Circles of 8 and then here are……
Links for the Further Exploration of the Music of Holland Phillips….
Artist's Website
Facebook
CD Baby
Amazon
Here is the title track from Circles of 8