Myrath – Legacy – Progressive Metal – Tunisia 
So around eleven o'clock this morning I thought it was to stop pounding on the computer keyboard and get up and get something done around the house In doing so, I decided to put on some progressive rock. I chose Legacy from Myrath. The album has been in my music rotation for about a week now and I like it more and more each time I listen to it!
Myrath is a progressive metal band from Tunisia. Yes, you read that correctly Tunisia. I first listened to the band back in 2013 two years after the release of their third album 2011's Tales of the Sands. I really liked that album with it;s blending of progressive metal and Middle Eastern music. It was really a sound that I had never heard before.  Like many of Myrath;s fans I have been eagerly waiting for the release  a new album and Legacy appear to be worth the wait!!
Myrath was formed 2001 by the then 13-year-old guitarist Malek Ben Arbia. The band's original name was XTAZY Joining Malek Ben Arbia were  two of his childhood friends,Fahmi Chakroun (drums)and Oualid Issaoui (guitar).The final members of the band  were  Zaher Ben Hamoudia on bass and vocalist Tarek Idouani . Initially the band  played covers of blues ,heavy metal and death metal bands.In 2003 they discovered progressive metal and for close to 2 years they played cover songs of SYMPHONY X in concert.
In 2004 after a couple of more changes to the band Myrath released their first self-produced album "Double Face " The band's second album and first major label recording Hope was released on the French label Brennus Music in 2007 after Malek Ben Arbia's graduation from  the famous Guitar school, Music Academy International (M.A.I.)  in Nancy -France. Malejk had enrolled to improve his knowledge of music theory and improve and diversify his playing skills.Desert Calls followed in 2010 and then Tales of the Sands in 2013.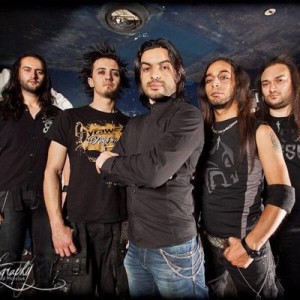 Since Zaher Zorgatti joined Myrath in 2007 the band;s line-up has been stable. The only line-up change on Legacy is Morgan Bethet replacing Saif Ouhibi  on drums.The musician line-up on Legacy is…..
 -Zaher Zorgatti / lead vocals
– Malek Ben Arbia / guitars
– Elyes Bouchoucha / keyboards
– Anis Jouini / bass guitar
– Morgan Bethet / drums
Myrath's music is definitely progressive metal but it mixes in a variety of cultural influences. There are times when you think that their sound is just typical heavy metal and then they play a riff that gives the music a Middle Eastern feel. Anyway you look at it, it's good music!! So check it out!
Favorite Tracks: Jasmin (1), Storm of Lies The Needle (5)and Believer (2) Hell they're all good!
Links for the Further Exploration of the Music of Myrath