Jason Marsalis :Vibraphone Born: March 4, 1977
So a while back I came across the album In a World of Mallets by Jason Marsalis. I listened to the album because the lead instrument was a vibraphone and not because of the name Marsalis. In fact I didn't even make the connection until today, when I was reading about Jason, who is celebrating birthday thirty-ninth (39) Soon, ,when I read that Jason was in fact the youngest of the famous Marsalis family led by father Ellis and includes brothers Wynton, Bradford and Delfeayo! I felt a little better when I read at All About Jazz that…..
(Jason) Marsalis is the mostly "unknown" part of one of jazz music's first families, but is spot-on with his artistry on In A World Of Mallets.
Jason Marsalis has been throughout his career has primarily been a drummer and percussionist.He started his musical career playing with the Marcus Roberts Trio in 1995. In 1998 he became a founding member of the highly successful Los Hombres Calientes. Jason was with the band which features Latin jazz rhythms flavored with Brazilian and Afro-Cuban soul for the first two albums and then left in 2000 before the band received its first Grammy nomination to focus more on the work of the Marcus Roberts Trio. This was around the time that Marsalis began playing vibes. During this period he not was recorded playing the vibes with clarinetist Tim Laughlin and drummer Shannon Powell w, but also started leading his own band on vibes
Marsalis stayed busy over the next few years part of which was spent in Japan and another part helping his hometown of Ne w Orléans recover from the devastation of Hurricane Katrina.You can read his complete biography here
I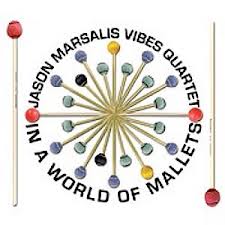 n a World of Mallets was released in March of 2013. The album went to number 1 on the CMJ Radio Charts and also won an Offbeat Magazine award, a New Orleans music magazine, for best Contemporary Jazz Album On the album Marsalis plays marimba, glockenspiel, tubular bells, vibraphone, xylophone;  and is supported by:  Will Goble: bass; David Potter: drums; Austin Johnson: piano. Matt Collar at AllMusic writes…
…. Marsalis leads them through a handful of his own original compositions (and some by his band mates) that reveal his own bent toward mixing urbane classical themes, bluesy swing, and contrapuntal post-bop sections. In that sense, tracks like the epic "Blues Can Be Abstract, Too," and the jaunty "Blues for the 29%ers," bring to mind work of his brother's Wynton and Branford. This is especially true when the band moves back and forth, doubling up the time between phrases in a kind of fractured, slightly outré post-Thelonious Monk swing style. Which isn't to say this is avant-garde music. However, there is kind of a cerebral, yet playful classical aesthetic at work on In a World of Mallets. This is perhaps best displayed on the opening and ending cuts, "Discipline Discovers a World of Mallets," and "Discipline Gets Lost in a World of Mallets," in which Marsalis layers his vibes and bells and various percussion instruments to create a kind of chamber jazz sound Full Review
Well, that explains, why I didn't really like this album that much the first time I heard it! I did think that it was a little more avant garde than what I usually listen to. I did listen to the album more closely today and found I liked several of the tracks, but then with all the other instruments mixed in I thought that at times the music was a little too carnival sounding for me. I will reserve final judgment though  until I've listened to the album a few more time, lest I say I don't like it an,d then have to eat my words, like I've done many times before!!!
So Happy Birthday, Jason Marsalis!! And let's go "Into the Night" with Jason and the Vibes Quartet performing "Ballet Class" from the album In a World of Mallets!