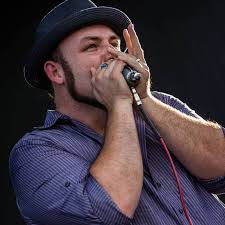 Brandon Santini – Live & Extended!
I love blues harmonica! I guess it stems back to listening to guys like John Mayall, Sonny Terry, Paul Butterfield and Sonny Boy Williamson in the 70s. Over the years, the list of my favorite harp players has grown to include: James cotton, Jason Ricci, Kim Wilson, Mark Hummel, Rick Estrin and others. One player who is quickly moving up the ranks of my favorites is Memphis' Brandon Santini!! With a sound that has been compared to Mister Cotton and Mister Butterfield, this native of the Piedmont region of North Carolina is staking his claim for inclusion among the best!! In my eyes and ears, he already is included! My first encounter with Brandon was when I picked up his 2013 release This Time Another Year which is a great album, but his latest release, Live & Extended! has topped it!
Live & Extended! was recorded in July 2014 at Festival d'ete de Quebec in Quebec City, QC. The album captures the vitality, energy and all around fun of a live Brandon Santini show and features twelve dynamic performances including two previously unreleased original songs. Not only is Brandon at the top of his game, but so is the band, especially lead guitarist Timo Arthur. While the rhythm section of bassist Nick Hern and drummer David Green are rock steady. Check out "Evil Woman". or my favorite :"Help Me with the Blues" Hell, check out the whole album!
I think that Live  & Extended! will garner Brandon a few more nominations at the Blues Foundations Blues Music Awards. At the 2014 Blues Music Awards This Time Another Year was nominated as "Contemporary Blues Album" of the year. While Brandon was nominated in the category of, "Instrumentalist- Harmonica". The nominees were:
Charlie Musselwhite
Brandon Santini
James Cotton
Kim Wilson
Rick Estrin
The winner was the legendary Charlie Musselwhite. But kudos to Brandon Santini for being right there among the best!! Brandon was also nominated for a Blues Blast Music Award in the category of, "Sean Costello Rising Star!" So check out the great harp and blues music of Brandon Santini!!
Links for Further Exploration of the Music of Brandon Santini!
Website
Facebook
Twitter
Reverbnation
Amazon
Here's Brandon  Santini and the band with the opening track from Live & Extended! :"One More Mile"