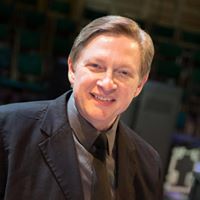 Rick Sparks – Endless                                                         Quiet Piano to Replenish Your Spirit
Many times I am drawn to an album by the album cover's art work. That was the case with the album at #7 on the Zone Music Reporters December Chart, Endless from Rick Sparks. The second thing about the album that caught my eye was that the album is a self-release. It seems I'm always drawn to these albums!. Hurrah for the little guy! But it was the quiet,and relaxing beauty of Spark's piano playing that ultimately made this one of the most enjoyable New Age albums, I have listened to in a while! The tag line on the album reads "Quiet Piano to Replenish Your Soul"and that's just what it did for me!
When I finally found the right website for Rick Sparks the New Age pianist, rather than Rick Sparks the banjo player I discovered that this Rick Sparks is a Ph.D and  a professor of mass communication at North Greenville University, Tigerville, SC, who also serves as pianist at his church in Spartanburg, SC. Mr. Sparks recording career began when he walked into an antique store in Franklin, Tennessee in 2007, and heard some quiet solo piano music playing in the background. He thought I'd like to record something like that and several months later  he released  the album, Christmas Love.  In 2013 with his new release The Cove, Rick Sparks started a New Age station on Live365. The Cove found a receptive audience and Sparks was inspired by a variety of musicians whose music his station played to record Endless. From his website….
Between June and September 2014, Rick recorded an album full of inspiring, melodic songs framed in simple yet powerful arrangements. The album opens with Gordon Lightfoot's lovely 1970's hit, Beautiful. Also included are four Scottish Endless album coversongs, an Irish hymn and a couple of originals (including the title song). For Rick, "Endless turned out to be everything I hoped for. I'm so grateful for the opportunity to do this wonderful music that feeds the soul."
Here;'s what some folks have said about Endless
Quiet piano to replenish your spirit. "An album full of grace, beauty and spiritual inspiration." -Michael Diamond, Music & Media Focus. "One of the top albums of 2014." –Bill Binkelman, Wind & Wire

"Rick's goal is to create music that 'feeds the soul,' and he has certainly done that on Endless, an album full of grace, beauty and spiritual inspiration."Michael Diamond MUSIC AND MEDIA FOCUS

"I love the title track, a gentle and soothing piece that suggests vast open spaces and infinite peace -this is a must-hear!"- Kathy Parson Mainly Piano.com
And I say, yes, yes, and yes. Endless is a beautiful album that is what it says it is – Quiet piano to replenish the soul – So Check it Out!!
Links for Further Explorations of the Music of Rick Sparks…
Website
Facebook
CDBaby
Amazon
Here's "Dream Angus" from Rick Sparks – Endless