Stephane Grappelli  – violin (January 26, 1908 -December 1, 1997)
Today is the birthday of the musician whom many people call "the grandfather of the jazz violinists"Stephane Grappelli. Grappelli was born in 1908 and passed away in  1997 at the age of 89! He had  performed  well into his 80s!  Basically, I know of Grappelli through the album Paris Encounter recorded with Gary Burton in 1969 I should now Stephane Grappelli  because he founded the Quintette du Hot Club de France with guitarist Django Reinhardt in 1934! The group was one of the first all-string jazz bands!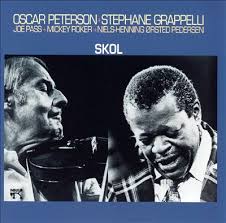 This morning I took a little time and listened to some of  Stephane Grappelli's vast catalogue of music. The first album I listened to was Skol which he recorded with the great Oscar Peterson in 1979. Scott Yanow at AllMusic writes….
Pianist Oscar Peterson and violinist Stephane Grappelli meet up on this Scandinavian concert. The "backup" crew (guitarist Joe Pass, bassist Niels Pedersen and drummer Mickey Roker) is not too bad either. In addition to a closing blues (which is highlighted by tradeoffs from Peterson and Grappelli), the quintet performs five veteran standards with creativity and swing. This CD, a straight reissue of a Pablo LP, contains plenty of fine music. More at AllMusic
The second album of Stephane Grapelli's that I listened to several tracks from was, Stephane Grapelli and David Grisman Live – released in 1981. I only had a chance to listen to a few tracks on this album, but I loved what I heard and I really want to go back and listen to these two great musicians trade licks on this album!! Both of these guys are masters of their respective instruments!!

Later in the day I was listening to Emergence from Lawrence Blatt and the violin of Lila Sklar. When I went to Spotify and put in Lila's name the only thing that the search returned was that she appeared on The Best of the pickPocket Ensemble. So I put the album on, while I was doing some surfing on the Internet.  It seems that the pickPocket Ensemble is a fairly well-known group from northern California that has produced six albums of original music. Their gypsy-tinged acoustic music has been featured in several films and on NPR and public television. Eric Feber, The Virginian-Pilot writes:
"This ensemble has effectively picked the pocket of a score of musical styles from all over the world to create a melodic and cohesive work of originality, humor and melodic invention."
The band's byline on their website is "new music for the World Cafe." While Lila Sklar is not listed as a member of the band, she is listed as a friend and collaborator! The violin duties for the band are handled by Chloe Allen, who has performed in a wide variety of styles including classical, folk, pop, rock, jazz, hip-hop, metal, circus, burlesque, punk, and Gypsy Swing!
So on a day that we honor the "grandfather of the jazz violin it was great to listen to a group of musicians, who are keeping the spirit of Stephane Grappelli alive. Happy Birthday, Stephane! I hope you and Django had a great day together!
Here is a playlist with some songs from each of the albums from above!!