The Dream Exchange the latest release from composer, singer-songwriter, producer, and performer John Luttrell sat at No. 1 on the Zone Music Reporter's Top 100 Radio Airplay Chart back in June of this year and that may be when I discovered the album. Anyway the album has been in my music rotation for a good part of the last half of 2014! The reason for that is easy to explain – it's a great album. Here's what some folks have to say about the album
"John Luttrell's "The Dream Exchange" is surely among the best ambient albums I've listened to in the last five years; but, it's not "just another ambient" affair… John calls his music "atmospheric" for a very good reason – he draws on an extensive multi-cultural background to paint his visions for you in very clear, concise and enjoyable songs that will inspire you to new heights."
– Dick Metcalf, aka Rotcod Zzaj, IMPROVIJAZZATION NATION magazine

"Guitarist/keyboardist John Luttrell takes the listener on an entertaining cruise through a dizzying landscape of prog, new age, and EM on The Dream Exchange. Meticulously recorded (produced by Luttrell himself and mastered by sound wizard Bryan Carrigan), the album sizzles with energy and imagination, frequently propelled by Luttrell's artistry on an assortment of guitars backed by his adroit command of a variety of keyboards and synths. […] Luttrell drops in elements of classic prog-rock here and there (mellotron, mini-moog, retro synths), and on headphones it can be fun to pick these elements out if you are an old-timer like me. The Dream Exchange demonstrates John Luttrell's unique musical vision via its guitar-driven soundscapes that flow forth from the speakers with power and imagination."
– Bill Binkelman
Wind and Wire / Zone Music Reporter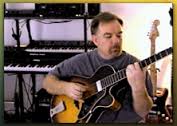 John Luttrell was born in Anaco, Venezuela in 1957 and grew up all across the globe spending time in South America, the US, Africa,(Libya, Nigeria), Europe,(Switzerland),  and the UK. From his biography at AllMusic…..
He began his professional music career playing guitar and keyboard in the mid-'70s prog rock band Chillum, and he played alongside Dave Veirs and Tony Betino during the '80s in another prog band, Helios. In 1989 he released his first solo album, Lost in My Dreams, which also inagurated his label, OtterSong Records. Throughout the '90s he performed in Southern California and composed music for numerous projects. He released Underwater Flying Lessons in 2000, an album of ambient new age compositions for piano, synthesizer, and guitar.Read More
Luttrell labels his music atmospheric  and it has a tinge of that progressive rock from his early years in it John Diliberto of  Echoes says  that  The Dream Exchange.…
….has echoes of many of his influences like Tangerine Dream,Emerson, Lake and Palmer and especially the rock orchestrations of Mike Oldfield. And like a good progressive rock fan, he's created a concept album based around dreams.
You can listen to the Echoes interview with John Luttrell here
I know that when I used The Dream Exchange last night as the soundtrack for a meditation, it was a very nice experience. Let's end this post with some thoughts about the album from John Luttrell himself…..
Throughout our lives we share our dreams with family and friends, and they share their dreams with us. If we're lucky we can help them activate and achieve their dreams and also work on achieving our own. How wonderful it is to experience and share in this Dream Exchange.
~ John Luttrell, April 2014
Links for Further Exploration of the Music of John Luttrell
Website
AllMusic
CD Baby
Facebook
Twitter
Here's "On Gossamer Wings" from John Luttrell's The Dream Exchange.