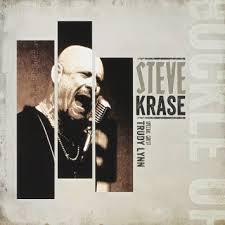 The title of the new album from Steve Krase is Buckle Up (featuring Trudy Lynn) and that's just what you should do before you listen to the album!  Buckle up and get ready for a wild ride!  The worst thing about the ten track album is that it's only 39 minutes long! The album had me from the opening rocker "Jolene" right on through to the closing track – an instrumental titled  "Now", and there were not many times during the album that my feet were not in motion!
Buckle Up is the second album from Krase, who was born in New York, educated at the University of Akron in Ohio, where he graduated with a degree in geology. After graduation Krase has spent time in California, Louisiana, and for the last 20 years he has called Texas home. During his years in Texas, Krase has played blues harp for Jerry Lightfoot and the Essentials and Matt Leddy and the Meatcutters.  Based on what I have heard on Buckle Up, he played that harp pretty damn well!!
After years as a sideman Krase formed Steve Krase and the In-Crowd and in 2004 and 2005 they were finalist at the International Blues Challenge in Nashville! After listening to  Buckle Up, I shake me head, and can't figure out how they lost!!
Buckle Up is the second album from Steve and is a follow-up to 2013's release Some Day. The album features special guest Trudy Lynn. Krase's band on the album consists of: Krase, vocals and harmonica; James Henry, guitars; Terry Dry, bass; Bobby Markoff, keyboards; and Michael Morris, drums. Other musicians contributing are Randy Wall, piano; producer. Rock Romano, bass; David Krase, guitar; Al Pagliuso, percussion; and background vocalist Cherae Lerie.
Three of the tracks on Buckle Up were written by Steve's brother David, including the rockabilly opening track "Jolene". The other two are "Blueshound" and the closing instrumental "Now", on which David plays guitar. Steve wrote the track "I Like Them All" which he sings and once again provides some great harp.
On my first listen, one of the  tracks that caught my attention was "Night Train" (from Oakland). That track was written by  Houston native, Jerry Lightfoot of Jerry Lightfoot and The Essentials, with whom Steve played . (Lightfoot passed away in 2006). The song is a slow blues track and serves up  almost eight minutes of great harp from Krase along with some nifty guitar from James Henry.
Bottom Line: This is a grade A+ album and may be my favorite blues album of the year!  So if you like great rockin' blues coupled with great blues harp like I do then check out Steve Krase' Buckle Up and of course remember to Buckle Up before listening!!
Links for further exploration of the music of Steve Krase
Official Website
Twitter
YouTube
MakingaScene ; Review of Buckle Up
Amazon
So Buckle Up because here comes the "Night Train (from Oakland" from Steve Krase……