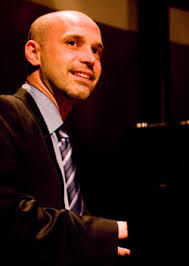 Throughout his career, Larry Fuller has been the consummate sideman. Fuller's career began, when he was 13 years old and was given a paying gig by Floyd "Candy" Johnson, an ex-member  of both the Count Basie and Duke Ellington Orchestras. Johnson also became a mentor for Fuller.
As a sideman, Fuller has performed with a who's who of jazz, including the likes of: Harry "Sweets" Edison, Stanley Turrentine, Phil Woods, Clark Terry, Herb Ellis, Marlena Shaw, Kevin Mahogany, John Clayton, John Heard, Bennie Golson, Emily Remler, Jimmy Witherspoon, Eddie Harris, Anita O'Day, Steve Allen, Regina Carter, Nicholas Payton, and John Legend.
In 1994, Fuller joined the Jeff Hamilton Trio, and spent 12 years with Hamilton  playing on classic albums like  Live!, It's Hamilton Time, and Live at Steamers. After his time with Jeff Hamilton, Fuller joined the Ray Brown Trio, becoming the last piano player for the great bassist. Most recently, Fuller has been a member of the John Pizzarelli Quartet.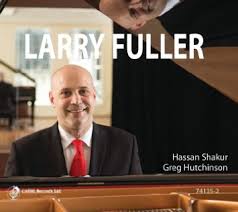 Larry Fuller's latest release, simply titled Larry Fuller has been in my rotation for about a week now and I love it. The album is  number 13 on the JazzWeek chart this week and has been as high as number 7. The album features Larry on piano accompanied by drummer Greg Hutchinson and bassist Hassan Shakur. On his prior album,  Easy Walker released in 2003, Fuller played with Jeff Hamilton on drums and Ray Brown on bass. (note to self check out this album!)
Larry Fuller is composed of 12 tracks and clocks in at just an hour in length.  Tracks include piano versions of jazz classics like: Clifford Brown's "Daahoud" (my favorite track on the album),  Oscar Peterson's "Hymn to Freedom", Duke Ellington's "C Jam Blues" (another favorite), Bud Powell's "Celia" and Ray Brown's "Parking Lot Blues". Fuller and Hutchinson also covers Cole Porter's"At Long Last Love"  and Joni Mitchell  "Both Sides Now". When all the music comes together, you get a consistently interesting album, where at times I was in awe of Larry Fuller's prowess on the piano. Here's what some others have to say about Fuller;s piano playing….
"Mr. Fuller…generates his own incandescence with riveting solos that summarize the history of jazz piano, from Count Basie and Fats Waller to George Shearing, Erroll Garner, Bill Evans and Oscar Peterson. Post-Gazette, From Manchester Craftsman's Guild, January 2013
"Whether playing rapid-fire, intricate passages or subtly interpreting a tender ballad, Fuller is always totally in command and engaging."- JazzTimes, November 2014
So Check out Larry Fuller (both the album and the pianist!)
Links to Explore the Music of Larry Fuller
Official Website
Facebook
YouTube
Amazon
All About Jazz
Here's Larry Fuller with "Parking Lot Blues"