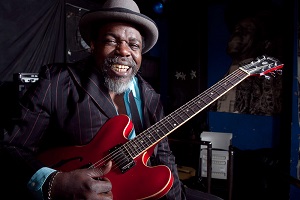 Last year 2013 was a great year for Chicago Blues artist Lurrie Bell. Bell, the son of the great blues harpist Carey Bell released one of his most successful solo albums, Blues in My Soul.  Blues in My Soul, released on the Delmark label, was Bell's return to electric blues after two albums which saw him playing in acoustic and religious styles. Lurrie Bell's return was positively received by the blues community,  the Blues Foundation nominated him for five 2014 Blues Music Awards, and Lurrie won the 2013 Living Blues Award as the Male Blues Act of the Year! Here are Lurrie Bell's five Blues Music Award's nominations.
Blues Album of the Year (Blues in My Soul)
Blues Song of the Year (Blues in My Soul)
Traditional Blues Album of the Year (Blues in My Soul)
Blues Guitarist of the Year
Traditional Male Blues Artist of the Year
Lurrie  won one of the awards,that he was nominated for:  "Blues in My Soul" won as the Blues Song of the year!
Today (December 13th) Lurrie celebrates his 56th birthday. Lurrie was born and raised in Chicago, and as the son of a blues man, Lurrie began playing the blues at an early age. He started playing the guitar at the age of six and by the time he was a teenager he was honing his skills with the likes of  Eddy Clearwater, Big Walter Horton and Eddie Taylor. In the mid-70s, he spent four years recording and touring with Koko Taylor's Blues Machine, He made his formal recording debut in 1977 playing with his dad's album Heartaches and Pain, as well as, Eddie C. Campbell's King of the Jungle.
In a career that has spanned more than 37 years , Lurrie Bell has released eleven solo albums, and ten collaborating with his father. In addition, Bell has appeared on six other blues albums including the 2009 release from Nick Moss & The Flip Tops Live at Chan's: Combo Platter No. 2 . This is the album on which I first heard Lurrie Bell's guitar! Bell is featured on the final four tracks of the album, including a dynamite 13 minute version of Eddie Boyd's "Five Long Years"!!
So if you are a fan of Chicago Blues but don't know Lurrie Bell check him out. Here's a some places to do just that!
Links exploring the blues of Lurrie Bell…
Official Website
Wikipedia
AllMusic
All About Jazz
Amazon
Here's Lurrie Bell and his band performing "Everyday I Have the Blues" at Bluesfest Eutin 2014. Lurrie I hope you didn't have the blues today, on your birthday! Happy Birthday and I hope you have a great day!!