Paul Clayton's tie to Dylan's "Don't Think Twice It's Alright"
The other day I was reading Dave Van Ronk's autobiography The Mayor of MacDougal Street. In the chapter I was reading Dave was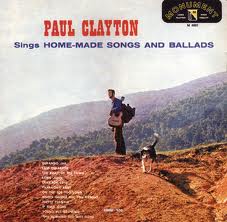 recalling fellow folksinger Paul Clayton.  Clayton was a graduate of the University of Virginia, He earned a master's degree in Folklore. A true folksinger Clayton studied traditional music and sang mostly New England sea shanties and ballads and Appalachian songs.
At the point of his career in the mid  to late 1950s, that Van Ronk was writing about Clayton, had already recorded dozens of albums. Most of them revolved around a theme like: Songs of Love and Marriage, Songs of Hate and Divorce. and Waters of Tyne: English North Country Songs & Ballads.  Van Ronk writes: any time Clayton needed money, he would head to the library and look through an obscure folklore collection. Then he would visit Moe Asch at Folkways Records. He'd say "You know Moe. I was just looking through your catalog and I noticed that you don't have a single album of Maine lumberjack ballads"
Moe would respond something like "I guess that is a serious omission. Do you know anyone who can sing enough of those to make a record'.  To which Clayton would respond "Well, as it happens….."
More from Wikipedia….
Four Clayton albums were released by Folkways in 1956 alone: his first, Bay State Ballads, followed by Folk Songs and Ballads of Virginia, Cumberland Mountain Folksongs and The Folkways-Viking Record of Folk Ballads of the English Speaking World. The next year, Folkways put out two more Clayton releases, American Broadside Ballads in Popular Tradition and Dulcimer Songs and Solos. In a span of just three years, he had recorded twelve albums
Clayton's Tie to "Don't Think Twice"
Clayton recorded his last album in 1965 simply titled  Paul Clayton, Folk Singer!  In 1967 Clayton was in his mid 30s and had a variety of personal problems including: frustrations with his career, doubts stemming from his homosexuality, manic depression drug abuse and an arrest all of these led Clayton to commit suicide.
According to folksinger Barry Kornfleld one of Clayton's songs "Who's Gonna Buy You Ribbons (When I'm Gone)" contained a riff that formed the basis for Dylan's (for whom Clayton was a mentor and friend) "Don't Think Twice"
From Wikipedia Kornfeld relates….
 "I was with Paul one day, and Dylan wanders by and says, 'Hey, man, that's a great song. I'm going to use that song.' And he wrote a far better song, a much more interesting song – 'Don't Think Twice, It's All Right'."[31]

Dylan's and Clayton's publishing companies sued each other over the alleged plagiarism. As it turned out, Clayton's song was derived from an earlier folksong entitled "Who's Gonna Buy You Chickens When I'm Gone?",[32][33] which was in the public domain. The lawsuits, which were settled out of court, had no effect on the friendship between the two songwriters.[5] In the notes to Biograph (album) (1985), Dylan acknowledges that "'Don't Think Twice' was a riff that Paul [Clayton] had." He also credits Clayton for the melody line to "Percy's Song". Read more
Exploring the Music of Paul Clayton
So after reading all the above,  I went over to Spotify and listened to some of Clayton's music and I thought that it was pretty good and deserves to be explored in a little more depth!  I also listened to Clayton's "Who's Gonna Buy You Ribbons (When I'm Gone)" and Dylan's "Don't Think Twice, It's Alright"  The similarity is obvious –  don't you think????