Cold Spell – From Mandolin Master Chef Frank Solivan and his Dirty Kitchen
With thoughts of Rob Ickes swirling in my mind last night, I listened again to Cold Spell, the new release from Frank Solivan and Dirty Kitchen, on the way to work at Target. Ickes is a guest on the album and as usual provides some great dobro to go with Solivan's fine mandolin picking!!
Cold Spell
Cold Spell is the third release from Frank and his band and with each release the band and Frank's star has risen!  Back in August, when the band released  Cold Spell,  it rose to No 3 on the Billboard Bluegrass Charts! In addition, Frank and the band have been nominated for the following International Bluegrass Music Association (IBMA) awards…..
Instrumental Group of the Year
Male Vocalist of the Year (Frank Solivan)
Mandolin Player of the Year (Frank Solivan)
Banjo Player of the Year (Mike Munford)
The Dirty Kitchen Band
Frank Solivan now calls Alexandria Virginia home and with Dirty Kitchen they play a blend of acoustic American Roots music with a bluegrass acoustic country base, flavored with blues, folk, swing and jazz! Sounds like my kinda' music, doesn't it!! Solivan's powerful vocals and outstanding mandolin playing are what make the band stand out for me.  But believe you me the rest of the band is powerful, too.  The rest of the band includes Mike Munford on banjo,   Chris Luquette on guitar and  Dan Booth on bass and throw IBMA's instrumental Group of the Year!!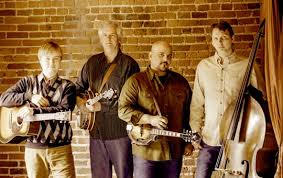 What Others are Saying…..
"Interesting, innovative, traditionally contemporary bluegrass! Great listening!" -Rhonda Vincent
"Frank's performance was one of the true eye openers for me… Great mandolin playing and singing."-Tim Stafford
"Don't miss it. Solivan is a major talent." -Bluegrass Unlimited
Yep, so check them out!!
Links :
Website
Facebook
Reverbnation 
Amazon
Here's the band performing "Better (Days Go By)" from Cold Spell