This afternoon I was listening to the latest release from Breaking Grass Just as Strong, after listening for a while, I went and found a video of the band seems that the band has everything I like fiddle, guitar, mandolin, banjo, and bass, wait! There's no dobro! But I listened anyway and they are a damn fine band without the dobro and I will listen to Just as Strong a few more times before I write about it…. but thinking about the dobro got me thinking about Rob Ickes, and then I came across this post and thought I'd post it again!!!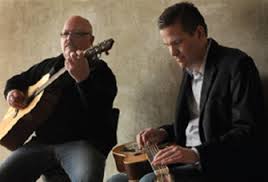 So last night before listening to Cameron Milford again and reading that Rob Ickes had played on his album, I found this video of Rob Ickes and Jim Hurst performing one of my favorite songs "Going Down the Road Feeling Bad".I was impressed by the guitar picking of Jim Hurst on the video, and of course, I always am impressed by Mr. Ickes! After watching, I went and read a little about Mr Hurst and discovered that he had been a member of Claire Lynch's band …. From Jim's biography at his website:
 "Jim Hurst is one of the most versatile and tasteful guitar players I know. Whether he's flailing the rhythm for an old time fiddle tune, laying down a funky groove, or finger picking a beautiful ballad, his playing is both impeccable and creative. Accompanying this instrumental virtuosity is a rich and expressive voice with a surprising range." Mark Schatz
….Jim joined Grammy-nominated Claire Lynch and The Front Porch String Band in 1995, during which time he teamed up with bassist Missy Raines. They began the duet Jim Hurst and Missy Raines while with Front Porch, but then broke off in 2000 to focus solely on their collaboration. Remaining faithful to their bluegrass roots, Jim and Missy explored other genres creating ground-breaking arrangements that wowed the bluegrass community. Their partnership resulted in two Pinecastle Records, Two and Synergy , receiving critical acclaim and garnering them IBMA Guitar and Bass Player of the Year for 2001 and 2002.

….Jim left the Claire Lynch Band in 2010 to embark on a solo career. Already seasoned with three solo recordings, Open Window, Second Son, A Box of Chocolates, his latest 2012 release, Intrepid, exhibits his deft guitar work and soothing vocals. Full Biography
I gave Intrepid a quick listen last night before the Eagles game and know I liked what I heard! But the game wiped out most of my memories of what I heard, so I will have to listen again!!
Anyway, let's go "into the night" with some IBMA award winners. We already read that Hurst was the IBMA guitar player of the year in 2001 and 2002, and as for Rob Ickes well…..
In 2011, he was named Dobro Player of the Year for the thirteenth time by the International Bluegrass Music Association. IBMA notes that he is the most awarded instrumentalist in the history of the IBMA Awards. He was also named the USA Peter Cummings Fellow in 2010 by United States Artists,[2] an organization that annually honors 50 of America's finest artists across eight disciplines .Read More
Not bad, eh??