Riley B B King   (September 16, 1925- May 14, 2015)
So today is the  anniversary of birth of probably the greatest blues musician of all time. Certainly he was one who was at the top of his craft the longest – B.B. King!!
Here's  the obligatory background information from Wikipedia, like he needs an introduction:
Riley B. King (born September 16, 1925- May 14, 2015), known by the stage name B.B. King, is an American blues musician, singer, songwriter, and guitarist.

Rolling Stone magazine ranked him at No. 6 on its list of the 100 greatest guitarists of all time (previously ranked No. 3 in the 2003 edition of the same list),[1] and he was ranked No. 17 in Gibson's "Top 50 Guitarists of All Time".[2]

According to Edward M. Komara, King "introduced a sophisticated style of soloing based on fluid string bending and shimmering vibrato that would influence virtually every electric blues guitarist that followed."[3]

King was inducted into the Rock and Roll Hall of Fame in 1987. He is considered one of the most influential blues musicians of all time, earning the nickname "The King of Blues", and one of the "Three Kings of the Blues Guitar" (along with Albert King and Freddie King).[4][5][6]

King is also known for performing tirelessly throughout his musical career appearing at 250-300 concerts per year until his seventies. In 1956 it was noted that he appeared at 342 shows. King continues to appear at 100 shows a year.
Read More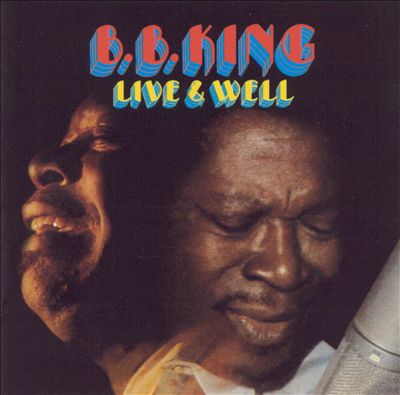 B.B. King in My Music Library
I think the first B..B. King album in my collection was his 1971 release Live & Well Richie Unterberger at AllMusic writes:
Although Live & Well wasn't a landmark album in the sense of Live at the Regal, it was a significant commercial breakthrough for King, as it was the first of his LPs to enter the Top 100. That may have been because recognition from rock stars such as Eric Clapton had finally boosted his exposure to the White pop audience, but it was a worthy recording on its own merits, divided evenly between live and studio material. King's always recorded well as a live act,
Since then, many of his albums are in my collection. This morning on my way back from my yearly checkup at my heart doctor, I decided to give one of those a listen, another 1971 release Live in London. Since it was a  short trip, I only had a chance to listen to a couple of tracks. Actually, the first one was the one I really wanted to hear. Now most people associate B.B King with "The Thrill is Gone" but for some reason the tune that I love is one he didn't even write, but he certainly made it his own – Caledonia!!
The Music
So here's some lunchtime music, from the birthday boy.  B.B. thanks for all the joy you and Lucille have brought to the world through your music! We miss you!
As I look at his discography at AllMusic, I think I'll give his 1965 release Live at the Regal a listen this afternoon!!