Yesterday, I was reviewing the Roots Music Bluegrass Chart and way down near the bottom, I came across a band whose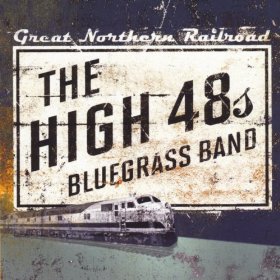 name  was unfamiliar with, The High 48s. Their latest release Great Northern Railroad was fittingly #48 on the chart. Since the album obviously had a train song on it, I thought it would be a good album to check out!! So I headed over to Spotify, found the album, listened to a few of the songs, and since my foot hadn't stopped tapping since the album began, I knew this one was a winner!!
The High 48s were formed in Minneapolis, Minnesota in 2006 and they are winners! They came to the attention of the national bluegrass scene, when they won the Rockygrass Band Competition in Lyons, Colorado, in 2008! The band's name refers to railroad slang for the boxcars that carried the troops to the front lines during WWI. The cars carried 40 men and 8 horses! The band members Eric Christopher,( fiddle and vocals), Anthony Ihrig – (banjo and Resonator guitar), Marty Marone (vocals and guitar), Chad Johnson (mandolin and vocals) and Rich Casey (bass and vocals)  have all honed their skills playing with the likes of Special Consensus and James King!
The band  mixes  traditional bluegrass an d original songs with a modern sound to create their own sound. They have everything that I love in a bluegrass band – fiddle, dobro, banjo, and mandolin throw in some fine vocals and harmonies and I'm a happy, toe-tapping camper!! Great Northern Railroad is an album of train songs and was engineered and produced by Randy Kohrs, whose music appears in my library! It's a fine toe-tapping album, that I know is going to be in my rotation for a good long while!  So check them out!  You can watch a video about the band here
Grade : A
(A -love it, B-  really like it, C- like it ok, D – not really maybe it will grow on me, F – no way,take it away)
Links
Website
Facebook
Twitter
YouTube
Here's the band playing a traditional bluegrass number – "Long Journey Home"