Marcus Bonfanti – Shake the Walls – and he does!!
When I first reviewed the nominees for the 2014 British Blues awards, one of the many nominees whose name I was unfamiliar with, was Marcus Bonfanti. So I downloaded and put his most recent album, the one that is among the nominees for Blues Album of the Year Shake the Walls, on the iPhone. Where it has been in my regular rotation ever since. If I had a vote for the Best British Blues album, it would most likely get my vote! While Bonfanti may be unfamiliar to me, he certainly isn't unfamiliar to the lovers of British Blues. Bonfanti won the award for Best Acoustic Performer in 2013 and took home the Best Songwriter award in 2012! This year in addition to his nomination for Blues Album, Bonfanti is also nominated for the following awards…..
Male Vocalist
Acoustic Act
Blues Song "Cheap Whiskey"
Blues Album Shake the Walls
Shake the Walls is the third release from Bonfanti the others are 2008"s release Hard Times. Marcus'  2009 release What Good Am I to You (2009) was listed in Classic Rock Magazine's top 50 albums of 2010 & Single "Give Me Your Cash" top 40 songs of 2010. Being listed in Classic Rock Magazine probably meant a lot to Bonfanti.  Bonfanti  started his musical career as a young trumpeter at the age of 16, but after hearing the first few bars of Led Zeppelin's "Black Dog",  he knew he wanted to play guitar!!
This year Bonfanti walked in the footsteps of another of his heroes, Alvin Lee,  when he joined Ten Years After. I for one can't wait to hear what the band sounds like with Bonfanti in the lead!! Another thrill for Bonfanti was playing in support of Shuggie Otis' first tour of the United Kingdom.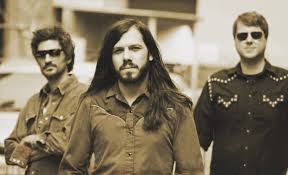 About Shake the Walls
Shake the Walls was recorded at the Grange with Dave Williams, who has worked with greats like Ike and Tina Turner,John Mayall and Peter Green.  The eleven tracks on the album are all Bonfanti originals and they are all good! Obviously, "Cheap Whiskey" is a highlight and well deserving of its nomination for Blues Song of the Year, other highlights for me include the opening track "Alley Cat", "Honest Boy", "Stone Me Sober", and "Blind Alley" and the other six songs!  So check him out!
Links for the Further Exploration of the Music of Marcus Bonfanti
Artist Website
AllMusic
Reverbnation
Facebook
Amazon
YouTube
Here's the Official Video for the song "Stone Me Sober"…..