Son Seals – Blues  Born   Frank Seals in Osceola, Arkansas. (August 14, 1942 – December 20, 2004)
Exploring the Music of Son Seals on his Birthday….
On this date in 1942 blues guitarist and singer Frank "Son" Seals in Osceola, Arkansas. I must say that I have never been a big fan of Son Seals I have one Seals album on cassette Live and Burnin' and have enjoyed it whenever I play it. A birthday is always a good tine to learn more about a musician and listen to their music.
 What I learn about Son Seals today…..
His father Jim "Son" Seals owned a small juke joint  in Osceola, where Son began his professional music career as a drummer with Robert Nighhawk at the ripe old age of 13! Later he switched to guitar and by 16 he was performing at the local upper echelon club T-99 beside "Little Walter" (Seals' brother-in-law). At the T-99,  he also shared the stage with the likes of  Albert King, Rufus Thomas, Bobby Bland, Junior Parker, and Rosco Gordon. From Wikipedia:
In 1971, Seals moved to Chicago. His career took off after he was discovered by Bruce Iglauer of Alligator Records at the 'Flamingo Club' in Chicago's South Side. His debut album, The Son Seals Blues Band, was released in 1973. The album included "Your Love Is Like a Cancer" and "Hot Sauce". Seals followed up with 1976's Midnight Son and 1978's Live and Burning. He continued releasing albums throughout the next two decades, all but one on Alligator Records. These included Chicago Fire (1980), Bad Axe (1984),Living in the Danger Zone (1991), Nothing But the Truth and Live-Spontaneous Combustion (1996). He received the W.C. Handy Award in 1985, 1987, and 2001. Read more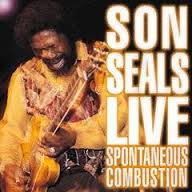 Live-Spontaneous Combustion
The album that I listened to was Seals 1996 release – Live-Spontaneous Combustion, which was recorded at Buddy Guys Legends club.  For me  live albums from blues artist tend to be really good, at live shows they tend to stretch songs out more, especially guitarist. They're solos tend to be more explosive and for me that's the case on this album…. I like it a lot and makes me want to go and check out Seals' back catalog. Scott Yanov at AllMusic writes this about the album…..
Son Seals is a very powerful performer. While his vocals are full of passion, it is Seals' explosive guitar solos (egged on by a driving rhythm section along with two fine horn players who have some solo spots) that are most notable. Recorded live at Buddy Guy's Legends in Chicago, Seals' interpretations of these spirited blues would certainly please the club owner. This enthusiastic set serves as a perfect introduction to the accessible and memorable blues of Son Seals.
Press about Son Seals
Seems I made the right choice. Here's what some others say about Son's music
"Seals' guitar style is built on soul, speed, intensity and an unflagging sense of timing and blues invention. [He'll] take a note and torture it, attacking a lick and repelling it five different ways, building power as he goes." — Guitar World
"His deep, gruff, hard-edged voice perfectly matches the acid bite of his bad axe which sometimes moves up into Albert Collins overdrive, sometimes down for a peck of chicken scratch. His guitar work is searing and expressive…he strikes with no-holds-barred ferocity." — Down Beat
Son Seals' Death
Seals died in December of 2004, from complication stemming from the diabetes he suffered from. He had previously,in 1999, lost a portion of his right leg to the disease.
So let's all wish Son Seals a Happy Birthday wherever he may be! And check out more about this Chicago blues legend at……
Links for the Further Exploration of the Blues of Son Seals
Alligator Records
Wikipedia
AllMusic
Here"s "Trouble, Trouble" from Live-Spontaneous Combustion