On this date August 7th in 1937, Morris Holt, better known as Magic Slim was born at Torrance, near Grenada, Mississippi. Magic Slim followed Muddy Water and Howlin' Wolf to Chicago and became a force in the Chicago blues scene. I discovered his music when I started the blog Me, Myself, Music and Mysteries. Here's my post about Magic Slim from 2o1o…..after this post Slim released one more album Bad Boy (2012) prior to his passing in February of 2013. From Wikipedia….
Slim died at a hospital in Philadelphia, Pennsylvania on February 21, 2013 at age 75. He had health problems that had worsened while he was on tour several weeks earlier.[8] His manager had stated bleeding ulcers had sent Slim to the hospital, but that he also suffered from heart, lung and kidney problems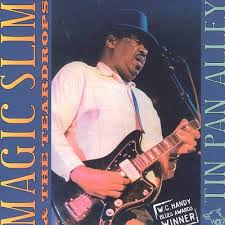 Oirginally poste at Me,Myself , Music and Mysteries……
So the other day I downloaded two blues albums onto the mp3 player but didn't really get a chance to listen to them. But yesterday and today I've listened to both of them and I have two new bluesmen that will be on the player for a while! I'll go with age before girth so the first one is Magic Slim and the Teardrops. The album that I listened to was his 2006 release Tin Pan Alley. Now unbeknown  to me Magic Slim (Morris Holt) has been around making great blues albums since the 70s! Sure enough when I look at Living Blues magazine's  list of the top 30 Very Best Blues albums of the 1980s there is Magic Slim at number 21 with his album Grand Slam. (Note to self check out Grand Slam) .You can check out his complete discography here along with all the awards that the band had won. Including the W.C. Handy Award as the "Best Blues Band" for six years in a row. His new album is called Raising the Bar and was released in May 2010. The album I listened to was Tin Pan Alley which is described as follows on emusic:
Tin Pan Alley was recorded between 1992 and 1998 in Chicago and various spots in Europe, with the domestic dates featuring his brother Nick Holt on bass, John Primer on second guitar, and Earl Howell on drums, while the overseas sessions substitute in Michael Dotson on second guitar and Allen Kirk on drums. The personnel changes don't matter one bit, since everything chugs along on Slim's singing and guitar playing anyway, and the set is darn near seamless. Highlights include the ragged and brisk "Please Don't Leave Me," a solid "Texas Flood," a live take on "Tin Pan Alley," and textbook covers of B.B. King's "Bad Luck," Willie Dixon's "Close to You," Albert King's "Goin' to California," and Mack Rice's "Cold Women with Warm Hearts."
Overall the album is great! Magic Slim has a great traditional blues voice and his guitar playing is outstanding. Evidently he plays slide guitar without a slide, only his fingers going up and down the fretboard bending notes and he does it well. I really liked all the tracks and I know the album is going to stay on the player for a while and I will be checking out more of his work including both his current release and Grand Slam. So if you like straight traditional blues check him out! If you like your blues mixed with rock you should stay around for th next post which will be Popa Chubby's new album The Fight Is On.
Here's "Going to Mississippi"
Related articles