Last Thursday June 26 was either the 121st or the 110th anniversary of the birth of Big Bill Broonzy, depending on what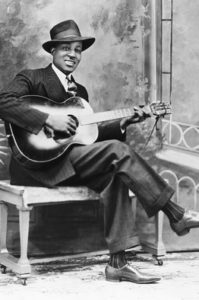 you believe. Most researchers believe that Big Bill was born Lee Conley Bradley in 1903 or 1904, in Plum Bayou , Jefferson County Arkansas and is one of the  children of Frank and Mittie Bradley. But Big Bill told people that he was born in Scott, Mississippi. He also told people he had a twin sister, Laney. I spent all day yesterday looking at census records and other records at Ancestry.com to substantiate either claim. According to the 1910 Census  Lee Bradley is listed a 6 years old as the son of Frank and Mittie Bradley. Bill's sister Lanie is also listed and is 3 years younger than Bill! Here are Lee's siblings as listed in the 1900 Census.
Andrew – 1883  (birth year)
Mattie – 1884
Rachel 1887
Judge 1891
Louise 1893
Frank Jr 1897
Gusta 1900
Oops – seems Lee and Louise share a birthday! Anyway in the 1920 Census Lee is still at home which is consistent with the story that Big Bill did not move to Chicago until the mid 1920s. In the 1930 Census in Chicago no Lee Bradley's were found, however, I did find a Willie Lee Broonsey born in 1902 in Mississippi. I searched for any Broonsey born on Mississippi in 1902 and the only return I got was Willie Lee in 1930 in Chicago!! So I believe that Willie Lee Broonsey was actually Lee Bradley born in Arkansas in 1904 to Mittie and Frank and that he told folks he was from Mississippi, because as a blues artist it sounded better to be from Scott, Mississippi than Plum Bayou, Arkansas!!
Now either way it doesn't really matter what matter is that Big Bill Broonzy had a great career that started in the 1920s as a "Country Blues" singer, became more of an Urban Blues singer in the 1940s and returned to his folk roots in the 1950s and lasted until his death in 1958. During the period between 1927 to 1941 Big Bill recorded over 224 songs. making him the second most recorded blues artist of the time! Additionally, he is credited with composing or 300 songs, many adaptation of traditional folk songs along with his original compositions!! Many of his songs like "Key to the Highway", "Matchbox Blues" and "Milk Cow Blues" are covered today by a variety of blues artists.
From Wikipedia Broonzy as an acoustic guitar player…..
…inspired Muddy Waters, Memphis Slim, Ray Davies, John Renbourn, Rory Gallagher,[21] Ben Taylor,[22] and Steve Howe[23]

In Q Magazine (September 2007) it is reported that Ronnie Wood of The Rolling Stones claims that Bill Broonzy's track, "Guitar Shuffle", is his favorite guitar music. Wood said, "It was one of the first tracks I learnt to play, but even to this day I can't play it exactly right."

Eric Clapton has cited Bill Broonzy as a major inspiration: Broonzy "became like a role model for me, in terms of how to play the acoustic guitar
Read Bill's full biography here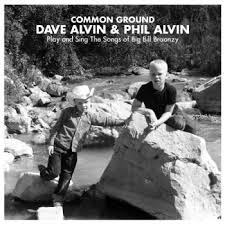 One of the reasons that this post came about is that Thursday was Big Bill's birthday and the other was that on Tuesday Dave and Phil Alvin released Common Ground: Dave and Phil Alvin Sing and Play the Songs of Big Bill Broonzy which on Thursday was the soundtrack of my run! The album is great! Dave and Phil choose twelve tracks that cover Broonzy's career from its start in 1927 with "Big Bill Blues" through 1941's with  "Key to the Highway" and "I Feel So Good"!! I am most familiar with the song "I Feel So Good" via the cover by Faces (see Ron Wood above), which has always been a favorite of mine. The only thing I wish is that the song had appeared near the end of the album rather than the beginning,  so that maybe it would have mentally picked me up at the end of my run!!
The bottom line is check out Dave and Phil's new album and Happy Belated Birthday, Big Bill Broonzy and thanks for all the great songs!!
Here's Dave and Phil's video for the song "I Feel So Good" or listen to the Faces version here
Related articles