If there's pain, there's gain then I gained a lot from today's run!! It has rained on a off all day today and when I set off on my run, I think the relative humidity was like 150% and the air was completely still and it certainly seemed that it had no wish to get into my lungs! Needless to say it was one of those runs when you just try to trick yourself, well if I only make 3 miles I'll be happy, oh 3 down I can make one more mile, 3.5 only one half mile to go, a snap!! Before you know it you're done, both the four miles and you!! First mile 10:22, acceptable, second mile 10:35 still ok, third mile 11:32 ouch! Fourth mile 12:25 and no I didn't walk any of it! Average pace 11:14 which is I guess ok! You know what they say "At least you did it!" and I'll live to run another day!!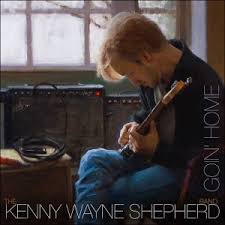 Now the soundtrack of the run was the new album from the Kenny Wayne Shepherd Band Goin' Home and it's a great album but the last three tracks I heard on my run. Buddy Guy's "Cut You Loose" the first line of the chorus is "I'm gonna throw my hands up and say "What's the use" now I know that the song the singer is not going to do that because he doesn't want to run anymore, but the thought of taking that action did cross my mind!! Next came "Born Under a Bad Sign" not really a positive mental attitude song now is it!! And then as I finished "Still a Fool" and for running today, maybe I am, my wife would say that the name fits anybody who runs!!
Goin' Home. Recorded in an 11-day whirlwind in his hometown of Shreveport, Louisiana, the raw, righteous release finds Shepherd revisiting a dozen of the vintage blues classics that originally inspired him to pick up the guitar and pursue a life in music, approaching the material with an intensity that affirms his deep connection to these time-tested classics.

On Goin Home, Shepherd's sharp interpretive skills and sublime guitar work shine on his renditions of tunes originally popularized by such blues icons as B.B. King, Albert King, Freddie King, Muddy Waters, Magic Sam, Johnny "Guitar" Watson, Stevie Ray Vaughan,Buddy Guy and Junior Wells. Shepherd's memorable readings of such beloved standards as "I Love the Life I Live," "The House Is Rockin'," "Breaking Up Somebody's Home" and "Born Under a Bad Sign," along with some lesser-known tunes drawn deep from within the catalogues of his heroes. Shepherd's new interpretations are faithful to the spirit of the originals, while serving as vibrant expressions of Shepherd's musical soul. Read More
Kenny Wayne's guitar work has never been better and the band composed of singer Noah Hunt, ex-Stevie Ray Vaughan and Double Trouble drummer Chris Layton, former Firm bassist Tony Franklin and keyboardist Riley Osbourn, is great, too, particularly Riley Osborn! Now Kenny Wayne and his band are enough by themselves, but to make the album over the top great some guest were added to the mix! The guests include: Joe Walsh, Warren Haynes, Keb' Mo' and Robert Randolph, longtime friend Ringo Starr, Fabulous Thunderbirds frontman Kim Wilson,(that explains the great harp I heard) and the Rebirth Brass Band!! So it's a great album that will certainly be at the top of many best of 2014 lists!! So check it out (Press Release) it won't be hard to find because it's number 1 on Amazon and iTunes!!
Here's a great video for the song "You Can't Judge a Book…" The song captures the spirit of the album!!