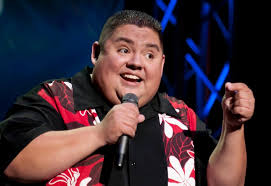 So tonight I did something that I rarely do and that is turn on the television and watch something other than sports. Well, I have to say that the reason that the TV was on in the first place was that the Phillies were playing this afternoon and after they lost and moved to like nine games under .500, I needed a laugh so I put on The Daily Show and watched Jon Stewart tear into Oliver North. After the show was over, I kept the TV on and started doing something, oh yeah, I was looking for funny stuff and I watched Monty Python's Upper Class Twit of the Year skit, which always cracks me up!! When the Python skit ended, in its usual blaze of glory, I turned my attention to the Comedy Central Special that was on TV, some very funny fat dude, or should I say "Fluffy Dude" was the headliner Gabriel Iglesias., I have never seen Iglesias before, but he is very talented and really funny. I watched most of two of his specials and came to the conclusion that to increase my happiness, I should watch more stand-up comedy!! So here is part of Gabriel's second special!
What I probably should have done, was written about the new Joe Crookston album
Georgia, I'm Here,
which I've listened two a couple of times so far, and think is going to be one of my favorite folk albums of the year, but alas I did not. I think that  will give the album another listen and write about it tomorrow. Until then, why don't you give a listen and watch Joe perform his song "Fall Down as the Rain" which is the title track of his 2004 release, hum, I am not familiar with that album, I guess that should be on my playlist for tomorrow too!! So here's Joe…..