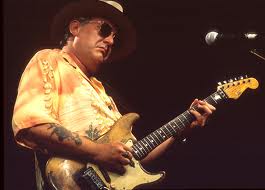 I first discovered Jimmy Thackery &the Drivers in the late 90s, in the period where my sons and I visited Tunes Used CD store in Marlton every week. My introduction to his music was  his 1994 release Trouble Man that I picked up on cassette. I'm listening to it now remembering what a great album it is! Check it out!! I loved the album since then several of his albums are in my music library. I must say that over the last several years I've lost track of his career, hum, maybe his birthday is a good day to start reconnecting….. from AllMusic….
Singer, songwriter, and guitar virtuoso Jimmy Thackery carved an enviable niche for himself in the world of electric blues. Known for his gritty, blue-collar approach and marathon live shows, Thackery was for many years part of the Nighthawks, one of the hardest-working blues bar bands in North America. By the late '80s, he was touring and recording under his own name, and finding widespread acceptance on the festival circuit. His hard-edged, tough-as-nails approach to guitar playing and his trio's driving rhythm section holds appeal for fans of both the straight-ahead blues of Muddy Waters and the roots rock of Bruce Springsteen and Joe Grushecky. Like the Nighthawks and Grushecky's Houserockers, much of the material Thackery performs can safely be called blues or blues-rock. Hardcore blues like "It's My Own Fault" and popular blues-rock chestnuts like "Red House" from Jimi Hendrix are fair game for Thackery & His Drivers, which includedMichael Patrick on bass and Mark Stutso on drums and vocals. Read More
So how about we kick off our Monday morning, start of the work week, ugh, by wishing Jimmy a Happy 61st Birthday and watch Jimmy perform "Cool Guitars"…….