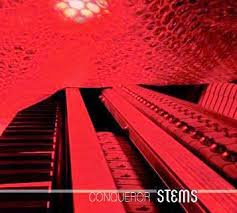 So yesterday, I was trying to organize some of my stuff around the computer and my work desk. My that's tall order!! Anyway, I went to progstreaming and looked over the albums and chose the album Stems by Conqueror. As usual, I knew nothing about the band, except that the album cover looked kind of interesting. It took a few minutes before I stopped and said, "Hey, this is pretty good"  And as I listened, the album proceeded to get better and better.
Conqueror is an Italian progressive rock band whose music is labeled as Rock Progressivo Italiano The band was founded by drummer Natale Russo (note if you translate their webpage from Italian to English Natale's name becomes Russian Christmas!) in November of 1994. The band went through many line up changes between their formation and the release of their début album Insinto in 2003  Since then they released four more albums, making Stems the band's fifth release. The band's current line up includes……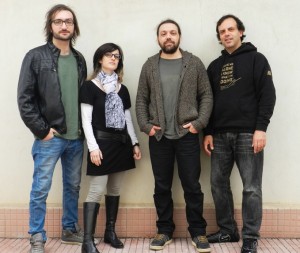 – Simona Rigano / vocals & keyboards
– Ture Pagano / guitar
– Peppe Papa / bass
– Natale Russo / drums
After reading this review of the band's 2010 release Madame Zelle, I really want to check out that album……
After the release of an EP in 2009, "Sprazzi di luce", in 2010 Conqueror released on Ma.Ra.Cash Records their fourth full length studio album, "Madame Zelle", with a renewed line up featuring Natale Russo (drums and percussions), Simona Rigano (vocals, keyboards and synth), Sabrina Rigano (flute and saxophone), Mario Pollino (guitars) and Gianluca Villa (bass). During the recording sessions they were helped by Ottavio Leo who contributed to enrich the sound with sitar and other instruments. The result is very good and the band confirmed here all the qualities of their previous works. "Madame Zelle" is a concept album inspired by the life and legend of Margaretha Geertruida Zelle, better known as Mata Hari. Simona Rigano's inspired vocals do not tell a story, they interpret with heartfelt empathy the feelings and emotions of an unabashedly independent, sensitive woman while the music is full of colours and nuances.Read More
So while I check out Madame Zelle, you can either check out the band, Stems or Madame Zelle………
Links
Website
ProgArchives
Progstreaming
Facebook
Here's a live performance – L'ora del parlare (live version 2014) with intro "cormorani" & Entropia special ending
concert in Parma 24 aprile 2014 …..