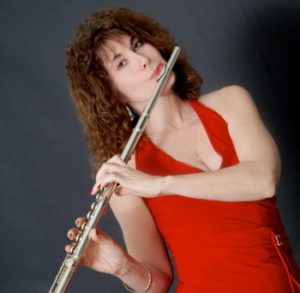 On this day May 3rd in the year ??? (Hum, we don't really need to know that) flutist Andrea Brachfeld was born! From All About Jazz….
Flutist Andrea Brachfeld, is a graduate of The High School of Music and Art and Manhattan School of Music. Over these past 20 years she has recorded more than a dozen CD's with many artists including, Africando, Noel Pointer, and Timbalaye. Her breakthrough performance as the flutist for the popular Latin band Charanga '76, catapulted her into Salsa history and fame as the first female flutist to play this music in the United States. While in high school she received the "Louis Armstrong Award for Outstanding Student" from Jazz Interactions. Study with Hubert Laws, Jimmy Heath, and Mike Longo helped her develop her own style. Downbeat magazine referred to Andrea as "one of the finest jazz flutists around." She has twice been the recipient of the Latin New York Music Award as a flutist.
Andrea started her career in the 1970s while she was still a teenager and then from 1982 to 1999 she took a little what is that a 17 year break and then returned to her career with her album Remembered Dreams. She has released four more albums. The latest is her 2012 release Lady of the Island which is her first straight-ahead jazz album. I gave that album and Remembered Dreams a listen today and really enjoyed both. While both of them were good I liked Lady of the Island a little better. The piano and the trumpet playing on that album were great here's a list of the personnel on the album. Both of the pianist and trumpet players were great and I'll have to go back and listen to each track to decide which ones were the ones I liked best.
Bob Quaranta: piano (4, 9), Fender Rhodes (8)
Andy Eulau: bass (1, 2, 4-9)
Kim Plainfield: drums (1, 2, 4-9)
Todd Bashore: alto saxophone (2, 6)
Chembo Corniel: congas (2, 6, 8, 9), percussion (8)
Wycliffe Gordon: trombone (1, 2, 6)
Yasek Manzano: trumpet (2, 6, 9), flugelhorn (8)
Bill O'Connell: piano (1-3, 5-8)
Wallace Roney: trumpet (2, 5)
Now since Saturday is a brain-dead day and I have to leave for work in a few minutes I am not going to add links but you know where you can check out her music. So do yourself a favor and do it!!
Here's is Andrea and her band performing Herbie Hancock's "Eye of the Hurricane" And Happy Birthday Andrea!!