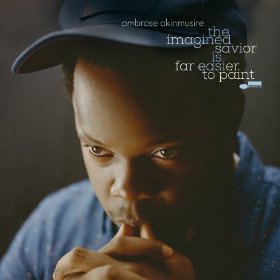 On this day May 1st in 1982 Ambrose Akinmusire (ah-kin-MOO-sir-ee) was born in Oakland California.  His latest release The Imagined Savior is Far Easier to Paint  has been in my listening rotation and I have enjoyed it! This was not my first meeting with Mr. Akinmusire, winner of the 2007 Thelonious Monk International Jazz Competition, the Carmine Caruso International Jazz Trumpet Solo Competition, two of the most prestigious jazz competitions in the world. No, I first listened to his trumpet back in August of last year when  I  spent A Night of Exploration – Contemporary Jazz Trumpeters! Since then I have listened to his second album on Blue Note records,When the Heart Emerges Glistening  and I like it more and more with each listen. The New Yorker calls Ambrose:               "a thrilling young trumpeter and astute bandleader [with a] unique spark in his playing"  Ambrose's musical journey started when Steve Coleman asked the then 19-year old Ankinmusire Manhattan School of Music student to join a European tour with his Coleman's Five Elements. After the tour Akinmusire returned to the West Coast and received his Master's Degree from the University of Southern California. In 2007 he attended the Thelonious Monk Institute of Jazz, and studied with Herbie Hancock, Wayne Shorter and Terence Blanchard. the imagined savior is far easier to paint  is Ambrose's second release on Blue Note Records and the second with a title that is pretty long. On his website he says…..
: "I don't think I've been able to make an album yet where one word can capture the whole vibe. Maybe eventually I will. Right now I'm drawing from so many different parts of myself, and things that are outside of myself, that it's hard to just have one word that says, 'This means this.'"…. "The last album was about me — about things that I was experiencing and trying to change or accept about myself. The inspiration for this album is things outside of myself: people that I know, documentaries that I've watched, characters that I've made up."
Of the thirteen tracks on the album 12 of them are Akinmusrie compositions. Many of the song titles have a name attached in parenthesis indicating the name of the character upon which the song is based. Examples of the named tracks are
"Ceaseless Inexhaustible Child (cyntoia brown)" — dedicated to the imprisoned young woman at the heart of the documentary The 16-Year-Old Killer  and  "asiam (joan)," ….inspired by Joni Mitchell — specifically, Michelle Mercer's portrait of "Joan" in her 2009 book Will You Take Me As I Am: Joni Mitchell's Blue Period  Read More
.The core quintet on the album in addition to Ambrose features: tenor saxophonist Walter Smith III, pianist Sam Harris, bassist Harish Raghavan, and drummer Justin Brown. On this album, Ambrose increased the size of the band by adding guitarist Charles Altura, as well as, the OSSO String Quartet and flutist Elena Penderhughes! In addition, he brought in vocalists Becca Stevens, Theo Bleckmann, and Cold Specks. The cool thing about the album, is that Ambrose gave the above guest vocalist a sketch of an idea and allowed them to create their own lyrics based on that idea.The two songs "Ceaseless Inexhaustible Child (cyntoia brown)"  and "asiam (joan),", mentioned above,  feature Cold Specks and Theo Bleckmann respectively. Summing it up, the imagined savior is far easier to paint is a great album, that's sure to be near the top of many reviewers "Best of 2014" lists. So check it out!! Links Website Wikipedia Facebook Amazon Finally, let's send a big "Happy Birthday" to Ambrose, while we watch and listen to Ambrose and his quintet live @ Belgrade Jazz Festival in 2012!
P.S. and my SECOND son, Andrew, was one month old!!