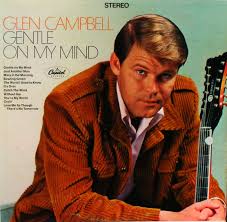 Yesterday I saw that Glen Campbell, who was diagnosed with Alzheimer's three years ago, was in his best interest, moved to a Care Facility. According to the family, it Campbell's care became too much for them. You can read about it here. Today Glen celebrates his 78th birthday! Glen was born on April 22, 1936 in Billstown, a tiny community near Delight in Pike County, Arkansas. He was the seventh son of 12 children. Way back when, in the late 60s, along with all the rock, and folk music that I was listening to, Glen Campbell's albums found their way into my music library! He was a great singer, an equally talented guitarist and a seemingly all around good guy. Four wives and the drug and alcohol abuse tell a different story for many years of his life, but bout 25 years or so ago he was able to put that all behind him for the most part. Here is a good article about Glen from The Telegraph. For those of you who don't know Glen, or those who need some reminding – from Wikipedia…..
Glen Travis Campbell (born April 22, 1936) is an American country music singer, guitarist, television host and occasional actor. He is best known for a series of hits in the 1960s and 1970s, as well as for hosting a variety show called The Glen Campbell Goodtime Hour on CBS television.

During his 50 years in show business, Campbell has released more than 70 albums. He has sold 45 million records and accumulated 12 RIAA Gold albums, 4 Platinum albums and 1 Double-Platinum album. Campbell's hits include John Hartford's "Gentle on My Mind", Jimmy Webb's "By the Time I Get to Phoenix", "Wichita Lineman" and "Galveston", Larry Weiss's "Rhinestone Cowboy" and Allen Toussaint's "Southern Nights".

Campbell made history by winning four Grammys in both country and pop categories in 1967.[2] For "Gentle on My Mind" he received two awards in country & western, "By the Time I Get to Phoenix" did the same in pop. He owns trophies for Male Vocalist of the Year from both the Country Music Association (CMA) and the Academy of Country Music (ACM), and took the CMA's top award as 1968 Entertainer of the Year. In 1969 Campbell was picked by actor John Wayne to play alongside him in the film True Grit, which gave Campbell a Golden Globe nomination for Most Promising Newcomer. Campbell sang the title song which was nominated for an Academy Award. Read More
So as we near the end of his day of birth, let's wish him a Happy Birthday and go "into the morning" listening and remembering the Glen we loved at the start of his career!!