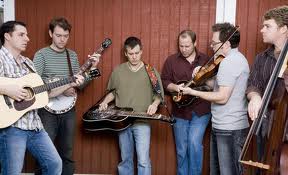 Alabama once sang "If you're gonna play in Texas, you gotta have a fiddle in the band". I'll change that and add "if you're gonna make me happy, you better have a dobro in the band" and a fiddle and banjo wouldn't  hurt!! Well, The Infamous Stringdusters have a dandy dobro player, Andy Hall, fine fiddler Jeremy Garrett, a bouncy, bombastic?? banjo player in Chris Pandolfi in combination with the guitar of Andy Falco and bass of Travis Book and listening to their latest album Let It Go today made me very happy!! And obviously a lot of other folks Let It Go is No 1 on the Roots Music Report Bluegrass Chart, #8 on the Americana Music Chart and No 3 on the Billboard Charts. After emerging eight years ago, they've grown from wunderkids to established stars with chart toping albums and Grammy nominations! Each year they have grown a little more and increased their crossover appeal  The band appears on stages as diverse as Telluride, Grey Fox, Bonnaroo and High Sierra. A quote on their website sums it up well…..
"The Infamous Stringdusters don't leave bluegrass behind; they're stretching it from within."
The band writes this about Let It Go, recorded last fall at the secluded White Star Sound studio located on a large historic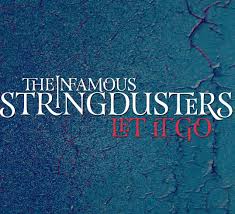 farm near Charlottesville, Virginia. The state of the art equipment in the studio combined with the rustic, peaceful and close-knit accommodations was a perfectly, peaceful location to record the album and the band writes on their website…
The result is easily the band's most cohesive musical statement to date. It's a record that respects the studio process. Dynamic picking is delivered with restrained grace, in service to song. There's stylistic range within the context of a unified vision, as melodic reflective tunes wander between nuanced expansive folk ("I'll Get Away"), anthemic country jams ("Colorado"), freewheelin' acoustic rock ("Peace of Mind" and "Light & Love") and dusty balladry ("Rainbows").
Overall, I felt as I listened to the album that the band got back to some of the roots that made their first several albums so great and that's their tight harmonies combined with the great picking that they are known for, particularly at their shows! For me these were on display on the third track of the album "Winds of Change"
Tonight, I listened to Silver Sky, which I thought I didn't like as much as this release and found that,. "hey that ones really good,too". Which all leads to one thing – if you don't know them check them out!!!!
Links
Website
Facebook
Youtube
Twitter
Here is the "Official" video for the title track of Let It Go. The band says that …
A lyric from the album's title track rings true to one of our core beliefs… "If you think you can make a difference and the fire is in your soul, go ahead and take your stand and if you can't, let it go."

We know we can make a difference! That's why we're fired up to benefit The Conservation Alliance with our Let It Go Album Release tour. From every ticket AND every copy of Let It Go sold, we'll donate $1.00 to The Conservation Alliance, whose mission is to work to protect wild places for their habitat and recreational value. Our friends at Keen and Klean Kanteen are standing up with us, and joining us on the road to help raise funds for the Alliance and awareness of the dangers facing our natural wonders and resources.Read More