Jiimmy McGriff  born on April 3,1936 in the Germantown section of Philadelphia!
On this date April 3rd in 1936 James Harrell McGriff was born in the Germantown section of Philadelphia.His musical journey started at the age of five when he started to learn to play the piano. By the time he reached his teen years he had expanded the group of instruments that he could play to include:  vibes, alto sax, drums and upright bass. Growing up Jimmy Smith was a childhood friend. After a stint as an Army MP during the Korean War, McGriff returned to Philly and became a police officer. During that time his thoughts kept drifting towards music. By this time Jimmy Smith's career was growing, after hearing Richard "Grove" Holmes' organ playing at McGriff's sister's wedding McGriff was determined to learn to play the organ. Eventually Holmes became his teacher. In 1956 he bought his first Hammond B3 and spent six months learning to play, He ultimately studied at Julliard in New York City and privately with others including his friend Jimmy Smith! You can read his complete biography here at Wikipedia.

Steve Huey in his biography of McGriff ar AllMusic writes:
One of the all-time giants of the Hammond B-3, Jimmy McGriff sometimes gets lost amid all the great soul-jazz organists from his hometown of Philadelphia. He was almost certainly the bluesiest of the major soul-jazz pioneers, and indeed, he often insisted that he was more of a blues musician than a jazz artist; nonetheless, he remained eclectic enough to blur the lines of classification. His sound — deep, down-to-earth grooves drenched in blues and gospel feeling — made him quite popular with R&B audiences, even more so than some of his peers; what was more, he was able to condense those charms into concise, funky, jukebox-ready singles that often did surprisingly well on the R&B charts. His rearrangement ofRay Charles' "I Got a Woman" was a Top Five R&B hit in 1962, and further hits like "All About My Girl," "Kiko," and "The Worm" followed over the course of the '60s. Continue Reading
It makes me feel a little better that Huey says that Jimmy McGriff gets lost among the great-soul-jazz-organists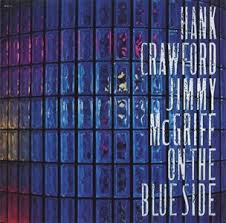 from Philly, because I only discovered his music a little while ago!! Everything I've listened to though so far I have enjoyed. This morning in honor of his birthday I listened to his 1990 release On the Blue Side, on this album McGriff is co-leader with saxophonist Hank Crawford.Scott Yanow says this about the album…..
One of the most consistent and most soulful of all jazz altoists, Hank Crawford sounds at his best when he has strong melodies to wrap his tone around, and when he can dig into the blues. Both aspects are true during this quartet outing which he co-leads with organist Jimmy McGriff. Crawford sounds particularly strong on "Jumpin' With Symphony Sid" and "Hank's Groove" and even if "Any Day Now" is a bit of a misfire, the interplay between the altoist and the organist (helped out by guitarist Jimmy Ponder's occasional solos and strong support from drummer Vince James) makes this an excellent soul jazz effort overall.
I have enjoyed Crawford's sax before and his album Wildflower is in my library, but Jimmy Ponder is new to me but I enjoyed the playing of both of them on this album. This one certainly is going to have a place in my music library!!
The sad part of this piece is that jimmy is no longer with us to celebrate his birthday. McGriff, at the time of his passing in May of 2008 McGriff was a resident of Voorhees, NJ. He died of complications from Multiple Sclerosis
Anyway Happy Birthday Jimmy – and I hope you, Jimmy Smith and Hank Crawford are have a great jam session wherever you are!! Jimmy's website has the tag line "The World's Greatest Blues Organist" so let's go with that – here's Jimmy McGriff, along with Hank Crawford and Bob DeVos on guitar and "Everyday I have the Blues"
Links
Artist Website
Wikipedia
AllMusic
Amazon