So now it is time to relax unwind and get ready for sleep. For the last two weeks I have, on most mornings, done one of the days from the Yoga Journals 21 Day Yoga Challenge beginner series. Over the last forty years while never doing yoga on an everyday basis I have done it a lot. Predominately, Hatha yoga, but I also have done Iyengar yoga, and Kundalin, which I did for about a year. Usually I find that if I do yoga for a few days in a row  I feel better, have a lighter step and more energy. Most times I catch myself asking why I feel so good and of course my response is you are doing yoga, duh! And then of course I stop! Why I don't know! Anyway, over the last two weeks I am seeing the same results and while part of the wellness that I feel may be attributed to the fact that I am away from my self-inflicted stressful job I am still working around the house and feeling great!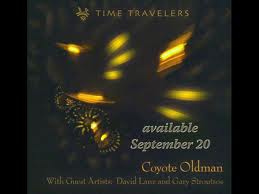 Along with the yoga, I am also trying to incorporate 20-30 minutes per day of  meditation into my schedule and so far  have been able to do it over the last week or so. I really haven't followed the course outlined by Yoga Journal although I may try it. Basically, what I have been doing is to try to quiet my mind and concentrate on my breathing, keeping it very slow. Additionally, I have been using music. I have pretty much used a different artist everyday. I started with Michael Brant DeMaria's The Maiden of Stonehenge and have also use Get Tribal's Gods of Drum and an album from Anilah titled Warrior all have worked well. Tonight I used Coyote Oldman. I have one Coyote Oldman album in my collection Thunder Chord and it is a favorite. Tonight, I used the 2011 release Time Travelers and I had the best 25 minute plus meditation yet! Now it may have been the terrific Native American flute but I also think maybe it is that I am getting better at meditating! Here is some background on Coyote Oldman….
Coyote Oldman is an exploration into music of the human spirit and the reintroduction of lost flutes. The elusive flowing melodies of flute player / maker Michael Graham Allen combine with the compositionally rich sound scapes of engineer / musician Barry Stramp.

Michael Graham Allen began building and selling ancient North American flute replicas throughout the United States in the mid 1970's and was a very early and prolific force in the reintroduction, refinement and popularization of what was at that time an obscure and almost forgotten instrument.

In 1986 and 1987 M. G. Allen introduced the North American flutes to mainstream and alternative music markets throughout the US, Europe and Asia with the groundbreaking recordings: Tear of the Moon and Night Forest. These recordings were very early introductions of ancient flute to North American, European and Japanese radio programs and gave millions of people their first encounter with this beautiful and little-known instrument. Coyote Oldman recordings are used in film and television programs around the world.Continue Reading
Here is a "Nebula in Orion" from Coyote Oldman's 1995 release The Shape of Time
P.S. I would be interested in hearing about any other music that anyone may use for meditation!