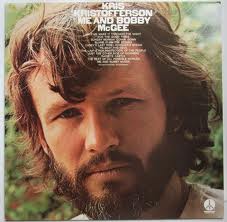 So sometime in 1971 I discovered the music of Kris Kristofferson. The reason that I can pinpoint it to that year is that I have the album cover that you see here. The album had originally been released as Kristofferson in 1970 and it met with poor sales. Then Janis Joplin had her hit with "Me and Bobby McGee" and the album was re-released with that title and as they say the rest is history. On that album there were several songs that had already been hits for a variety of artists. In fact, "For the Good Times"  as covered by Ray Price) won "Song of the Year" in 1970 from the Academy of Country Music, and Johnny Cash's version of "Sunday Morning Coming Down"  won the same award from the Country Music Association in the same year. This was the only time an individual received the same award from these two organizations in the same year for different songs!! Sammi Smith also had a big hit with "Help Me Make It Through the Night"
Along with the above songs, my other favorites on the album are "To Beat the Devil" and "Just the Other Side of Nowhere". I have to say though that my favorite song on the album is "Sunday Morning Coming Down" To me the images that Kristofferson paints in verse are so vivid that it's like I am almost there and many a time this song has been recited in the jukebox in my head…. and for me there's few verses in song more poignant than this one…..
In the park I saw a daddy,
With a laughin' little girl who he was swingin'.
And I stopped beside a Sunday school,
And listened to the song they were singin'.
Then I headed back for home,
And somewhere far away a lonely bell was ringin'.
And it echoed through the canyons, 
Like the disappearing dreams of yesterday.
yep, gets me every time I hear it….. so let's listen again to Kris sing it, in honor of Johnny Cash…..