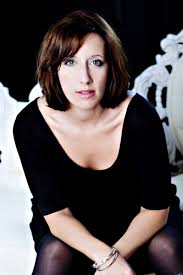 Most times I don't like jazz vocalists.I am fine with just the music! So when I went to MOG to check out Darden Purcell's 2009 release Easy Living, I was already to listen for a couple of seconds and then move on. The reason that I was exploring the album at all was that yesterday was Ms Purcell's birthday! So the negative minded me found the album and hit play. The album started with Darden doing a little scatting accompanied by some nifty drumming from Stockton Helbing, then I heard her great voice backed by a fine piano, finally a dynamite piano solo from Chip Stephens took off and I was hooked. The song was "What A Little Moonlight Can Do" and I knew after the song that what Darden Purcell can so is sing!! From CDBaby…..
"Once in a while you hear a jazz singer whose voice is so unique and intimately communicative, that it simply reaches out and makes you stop and listen. Darden has one of those voices. Her style is understated and yet extremely expressive with an unerring sense of pitch, swing feel and phrasing. In her first release, Darden demonstrates a sense of balance, restraint, honestly and thoughtful musicality that is usually reserved for the experienced veterans. Look out for this young lady…a formidable voice has emerged onto the scene. ~ Jazz Vocalist, Dr. Lisanne Lyons
Ms. Purcell's main jazz scene is the Washington D.C. area, where she is currently the Director of Jazz Studies, Jazz Voice instructor and Director of the Mason Jazz Vocal Ensemble at George Mason University. After receiving her Bachelor of Fine Arts in Vocal Jazz Performance at Virginia Tech, a Master of Music in Jazz Performance at the University of Illinois at Urbana-Champaign. She received a Doctor of Musical Arts in Jazz Performance also at the University of Illinois at Urbana-Champaign. and will hereafter in this post be referred to as Dr. Purcell!! Dr. Purcell has worked with a myriad of performers both as a sought-after lead vocalist and a back-up singer. The list is too long to post here, but if you're interested you can check out her biography here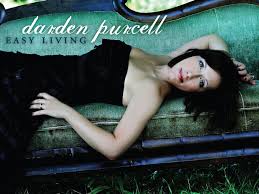 Now back to Easy Living – on which Dr. Purcell is accompanied by Grammy Award-winning saxophonist, Chip McNeill, who also, by the way, produced the album. I've already mentioned the piano player and drummer – do you remember their names? – if you said Chip Stephens and Stockton Helbing go to the head of the class!! The rest of the rhythm section is comprised of Shawn Purcell (guitar), and Dennis Carroll (bass).
The album features a lot of classic tunes, but they don't seem dated, Darden's voice and the arrangements make the music fresh and alive . She works really well with the band and gives the band lots of room to stretch out and show what great musicians they are. The vocals while being great never overpower the jazz music that the band is playing!! From Trombonist Jim Pugh…..
"Darden's time has come…a remarkable recording from a singer of incomparable talent and depth…partnered by some of the finest jazz musicians anywhere. In a CD filled with interesting twists and turns and great songs, the treatment of "Will You Still Love Me Tomorrow?" is worth the price of admission alone."
And I agree except for me it's the opening track "What a Little Moonlight Can Do" that is worth the price of admission alone!!! So Happy Belated Birthday, Dr Darden Purcell! And here is her version of "What a Little Moonlight Can Do"
Links
Artist Website
Armored Records
CD Baby – Darden Purcell
Amazon