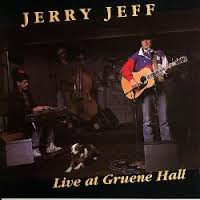 Through the years Jerry Jeff Walker has introduced me to many great songwriters like Guy Clark,and Townes Van Zandt. Two other songwriters  songs appear on the Jerry Jeff's album Live at Gruene Hall.. First, three Chris Wall songs appear on the album "I Feel Like Hank Williams Tonight".."Trashy Women" and this one "Rodeo Wind" Can't you just see that cowboy out in the barn saddling his horse, with his woman leaning against the frame of the barn door, as he gets ready to ride off into the sunset!
The other songwriter is Bill Staines. If you don't know Bill here is an introduction from his biography at his website:
For more than forty years, Bill has traveled back and forth across North America, singing his songs and delighting audiences at festivals, folksong societies, colleges, concerts, clubs, and coffeehouses. A New England native, Bill became involved with the Boston-Cambridge folk scene in the early 1960's and for a time, emceed the Sunday Hootenanny at the legendary Club 47 in Cambridge. Bill quickly became a popular performer in the Boston area. From the time in 1971 when a reviewer from the Boston Phoenix stated that he was "simply Boston's best performer", Bill has continually appeared on folk music radio listener polls as one of the top all time favorite folk artists. Now, well into his fifth decade as a folk performer, he has gained an international reputation as a gifted songwriter and performer.Continue Reading
The Bill Staines' song that Jerry Jeff performs on the album is "The Quiet Faith of Man" which is a truly in my humble opinion a great song.
Here's another one of my favorite Bill's tunes "Old Dogs" with a terrific video from Lily's Legacy Senior Dog Sanctuary. Check them out –
 Here 
 Have a great Saturday and Go Gators!!