So if nothing else blues songs have staying power! Who would have thought that a song written by a blind blues singer born in 1898 would end up as the 9th rank song on the Rolling Stone Magazine's list of the 100 Greatest Guitar songs of All time! Which is exactly what happened to Blind Willie McTell's song "Statesboro Blues"! The version that made it to the list was the cover from the Allman Brothers! And in 2005, The Atlanta Journal-Constitution ranked "Statesboro Blues" number 57 on its list of 100 Songs of the South. McTell recorded and released the song in 1928!! An abbreviated list of the folks wh have covered the song includes: Taj Mahal, David Bromberg, The Devil Makes Three, Brooks Williams, and Ralph McTell, who changed his name on account of liking the song.
What's really amazing is that many of the other older blues musicians, Blind Willie pasted away in 1959 so he was not among those other older blues musicians like Mississippi John Hurt, John Lee Hooker, and Lighting Hopkins that were rediscovered in the 60s!! Yet along with Statesboro many other McTell songs have been covered by contemporary artists. Ry Cooder covered McTell's "Married Man's a Fool" on his 1973 album, Paradise and Lunch. Jack White of The White Stripes considers McTell an influence, as their 2000 album De Stijl was dedicated to him and featured a cover of his song "Southern Can Is Mine". The White Stripes also covered McTell's "Lord, Send Me an Angel", releasing it as a single in 2000. In 2013 Jack White's Third Man Records teamed up with Document Records to reissue The Complete Recorded Works in Chronological Order of Charley Patton, Blind Willie McTell and The Mississippi Sheiks!!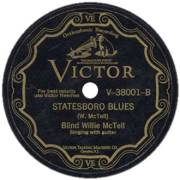 You can read more about the song here at Wikipedia as wells as Blind Willie here
Now the reason that I am writing all of this is that the song popped into my head this morning! The version of the song is the one that through the years I have played the most and that is the one by David Bromberg. So as I go off to work at Target – you all can go "into the night" with "Statesboro Blues" from Mr Bromberg!!
;