S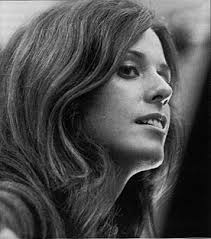 o it looks like right now my mind is trapped in the folk revival in Greenwich Village in the 1960s with thoughts of Tom Paxton, Carolyn Hester, Mississippi John Hurt and others. This morning the first song the popped into my head was Tom Paxton's "I Can't Help But Wonder Where I'm Bound". You know at least two or three times a week this song plays in my mind – maybe it's the line "trying to find what I was meant to do" that does it for me! Anyway, when I search YouTube this morning for the song, this is the version that came up first, featuring Nanci Griffith and Carolyn Hester along with Tom……
One of several interesting things that I read about Carolyn Hester this morning, at Wikipedia, was that she turned down an invitation from Peter Yarrow and Paul Stokey to join their trio. so Peter and Paul and Mary Travers set out together! Another was that she was married to Richard Farina for two years. From Wikipedia: Hester met Farina and……
They married eighteen days later. Fariña appointed himself Hester's agent; they toured worldwide while Fariña worked on his novel and Carolyn performed gigs. Fariña was present when Hester recorded her third album at Columbia studios during September 1961, where a then-little-known Bob Dylan played harmonica on several tracks. Fariña became a good friend of Dylan's; their friendship is a major topic of David Hajdu's book, Positively 4th Street: The Lives and Times of Joan Baez, Bob Dylan, Mimi Baez Fariña, and Richard Fariña. Fariña then traveled to Europe, where he met Mimi Baez, the teenage sister of Joan Baez in the spring of 1962. Hester divorced Fariña soon thereafter, and Fariña married 17-year-old Mimi in April 1963. Thomas Pynchon was the best man. They moved to a small cabin in Carmel, California, where they composed songs with a guitar and Appalachian dulcimer. They debuted their act as "Richard & Mimi Fariña" at the Big Sur Folk Festival in 1964 and signed a contract with Vanguard Records. They recorded their first album, Celebrations For a Grey Day,[1] with the help of Bruce Langhorne, who had previously played for Dylan. Due to his brief life, Fariña's musical output was limited. The Fariñas released three albums, one was released after his death.
Here's Carolyn's description of a young Bob Dylan
"Extremely magnetic, he was different-looking from everyone else," states Hester. "I grew up around people named Boogerweed and Doak – Bob didn't look like any of those. He was thin, rather small, very, very pale. He had long fingernails on his right hand to pluck the guitar. He had great power onstage. He was really different. It's vital for the young to realize the power of their own ability. "Bob started with a pencil and a piece of paper." Read More at Double-Barrel Beautiful -How Carolyn Hester of Waco rose to the height of the folk revival, gave Bob Dylan his break, and lived to tell the tale
Carolyn Hester is one of those artists whose name I know, but know little else about them. As I was reading her biography at Wikipedia tonight I see that most of her recordings were made in the early to mid-60s and by the late 60s when I started to listening to folk music her career was waning. Carolyn recorded five albums from 1961 to 1965, then as the folk music scene in the village was waning she tried to go into psychedelic folk rock with The Carolyn Hester Coalition in 1969 which really didn't work. She released two more albums in 1970 and 1973 that did little and she didn't release another until 1996! Her most recent album was released in 2010 titled We Dream Forever recorded with her daughters Karla and Amy Blume.
Links
Website Wikipedia YouTube – Carolyn Hester-Topic AllMusic Here's "Dink's Song" from Carolyn….