So I went to the library today, like I need more to read, anyway. I took two books back that I have read Kent Haruf's Plainsong and Deborah Hick's The Road Out– two others I did not have time to read Crossroads a book about BLues and Rock music and Chi Marathoning – running what's running??? Then I checked three out and we'[l see how I do at reading this set of books:
The Heart of Everything That Is: The Untold Story of Red Cloud, An American Legend
by Bob Drury and Tom Clavin
The history of the American Indians and the Indian Wars has been an interest of mine forever. Maybe it stems from being in Indian Guides when I was little or maybe all he Westerns that I was raised on. whatever the reason is I find that time period in American history interesting and tragic. I always rooted for the Indians! I look forward to learning more about Red Cloud.
Jefferson and Hamilton: The Rivalry That Foraged a Nation
by John Ferling
Another time period in US history that intrigues me. Jefferson has always been a favorite of mine and this book certainly looks interesting!!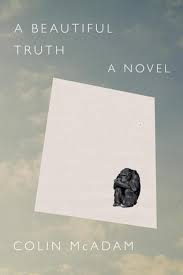 A Beautiful Truth – A Novel 
by Colin McAdam
From Amazon:
A powerful and haunting meditation on human nature told from the dual perspectives of a Vermont family that has adopted a chimp as a surrogate son, and a group of chimpanzees in a Florida research institute
A Beautiful Truth is an epic and heartfelt story about parenthood, friendship, loneliness, fear and conflict, about the things we hold sacred as humans and how much we have in common with our animal relatives. A novel of great heart and wisdom from a literary master, it exposes the yearnings, cruelty, and resilience of all great apes.
My literature read for the month. Anyone care to join in???
Ok so I have my reading cut out for me – now all I have to do is see if I can successfully block out the time to read them!!