So the other day when I was writing about John Sebastian, I mentioned that John played on Fred Neil's first abum Bleeker & MacDougal. This got me thinking about Fred Neil so here is a repost of a post I did a while back. But first two things the first is on Neil's album John played harmonica! Secondly, I also mentioned that the Lovin' Spoonful got their name from Mississippi John Hurt's song "Coffee Blues" So here it is:
Now back to Fred Neil…….
So tonight's folk flashback leads us to the intersection of Bleecker & MacDougal streets in New York City where……
At the corner of MacDougal and Bleecker Street, at No. 93, is the former site of the San Remo Cafe, which attracted many bohemians such as James Agee, W. H. Auden, James Baldwin, William S. Burroughs, Gregory Corso, Miles Davis, Allen Ginsberg, Frank O'Hara, Jack Kerouac, Jackson Pollock, William Styron, Dylan Thomas, Gore Vidal, and many others.
Wow!! The cafe is featured on the cover of the début Fred Neil folk rock album Bleecker & MacDougal. Fred Neil popped into my head because of another verse in that Jerry Jeff Walker's song "Blue Mood" that I played last night. A line in the verse goes …..."They got Susanna's money, like the stole Fred Neil's and mine…."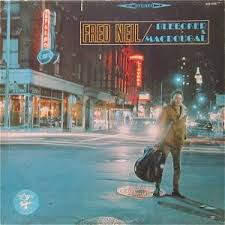 I imagine that the majority of you reading this may never have heard of Fred Neil, but you may know one of his songs that Harry Neilson covered " Everybody's Talkin'" a little background about Fred from his website:
Moody, bluesy, and melodic, Fred Neil was one of the most compelling folk-rockers to emerge from Greenwich Village in the mid-'60s. His albums showcased his extraordinarily low, rich voice on intensely personal and reflective compositions. His influence was subtle but significant; before forming the Lovin' Spoonful, John Sebastian played harmonica on Neil's first album, which also featured guitarist Felix Pappalardi, who went on to produce Cream. The Jefferson Airplane featured Neil's "Other Side of This Life" prominently in their concerts, and dedicated a couple of songs ("Ballad of You and Me and Pooneil" and "House at Pooneil Corner") to him. On the B-side of "Crying" is Neil's "Candy Man," one of Roy Orbison's bluesiest efforts. Stephen Stills has mentioned Neil as an influence on his guitar playing. Most famously, Harry Nilsson took Neil's "Everybody's Talkin'" into the Top Ten as the theme to the movie Midnight Cowboy. Continue Reading
After the release of his last album The Other Side of this Life. Neil lived mostly in obscurity and devoted a large part of his time to The Dolphin Project He lost his battle with skin cancer unexpectedly on July 7. 2001 at his home in Florida. His legacy from Wikipedia:
Neil gained public recognition in 1969, when Nilsson's recording of "Everybody's Talkin'" was featured in the film Midnight Cowboy; the song became a hit and won a Grammy Award. He was one of the pioneers of the folk rock and singer-songwriter musical genres,[12][13] his most prominent musical descendants being Tim Buckley,[14] Stephen Stills,[15] David Crosby and Joni Mitchell.[citation needed] His most frequently cited disciples are Karen Dalton, Tim Hardin, Dino Valenti, Vince Martin, Peter Stampfel of the avant-folk ensemble The Holy Modal Rounders, John Sebastian (The Lovin' Spoonful),[15] Gram Parsons,[16] Jerry Jeff Walker, Barry McGuire,[15] and Paul Kantner (Jefferson Airplane).[15][citation needed] Some of Neil's early compositions were recorded by Buddy Holly and Roy Orbison. He played guitar on the demo version of Bobby Darin's 1958 hit "Dream Lover," and was a demo singer on a late-1950s Elvis Presley movie soundtrack session.[citation needed]

In Fred Neil's Rolling Stone obituary Anthony DeCurtis wrote, "So why is Neil a hero to David Crosby? Because back when Crosby was an aspiring folkie who just arrived in New York, Neil bothered to take an interest in him, just as he did for the young Bob Dylan, who backed Neil on harmonica at the Cafe Wha? in Greenwich Village. 'He taught me that everything was music,' Crosby says."[17]

In his memoir, Richie Havens recalled Neil and then-partner Vince Martin's ability to make an entrance through the audience, sans microphones, and get the audience up and clapping by relying only on their harmonious vocals Read Full Biography
Somewhere around the house is a type written t rack list of songs on an old reel to reel tape that I had back in the day…. on that list is one of my favorite Fred Neil songs "Dolphins"