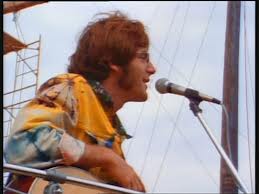 So what can you say about John Sebastian. He had a great run with the Lovin' Spoonful lots of great hits  like: "Do You Believe in Magic", "Did You Ever Have to Make Up Your Mind?", "Nashville Cats" and many more. He also had a good solo career. Yet most younger people know him for one song  the theme song to, "Welcome Back Kotter! "Anyway, two of my favorite John Sebastian albums are his first self-titled solo album and Cheapo-cheapo Productions Presents John Sebastian.  Lots of good stuff on both albums. Some of my favorites from John B Sebastian include: "Red Eye Express", Magical Connections", "She's a Lady" and  "Rainbows All Over Your Blues". My favorite track on Cheapo- Cheapo is "Younger Generation" a couple of Spoonful songs "Did You Ever Have to Make Up Your Mind" and "Nashville Cats" appear on the album. Visiting Wikipedia I see that John:
…. is the godson of Vivian Vance (Ethel Mertz of I Love Lucy). He grew up surrounded by music and musicians, including Burl Ives and Woody Guthrie and hearing such players as Leadbelly and Mississippi John Hurt in his own neighborhood
this also caught my eye concerning the early part of John's career:
He also recorded with Fred Neil on the Bleecker & MacDougal album and Tom Rush's self-titled album in 1965. He came up through the Even Dozen Jug Band and The Mugwumps, which split to form the Lovin' Spoonful and The Mamas & the Papas. Sebastian was joined by Zal Yanovsky, Steve Boone and Joe Butler in the Spoonful, which was named after "The Coffee Blues," a Mississippi John Hurt song. Sebastian also played autoharp on occasion. Full Biography
John was inducted into the Rock and Roll Hall of Fame in 2000 and the artifact that's one display in the hall is the tie-dyed jacket John wore at Woodstock, that's shown in the picture at the top of this post!John is still touring and his next stop is Hawaii! His most recent recordings include: Satisfied an album he did with David Grissom and  a tribute album, that John was included on,  titled James "Yank" Rachell, A Tribute To The Legendary Blues Mandolin Man, released in 2007 and 2008 respectively.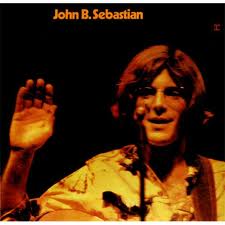 So here is John performing one of my favorite songs "She's a Lady" from John B Sebastian, on the Davis Steinberg Show! I love the part at the end of this video! Happy Birthday, John!