Red House Records released John Gorka's debut album I Know in 1987. In 1989 he left the small i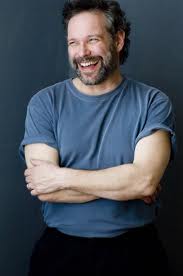 ndependent label for Will Ackerman's Windham Hill label . Also in that year, Windham Hill released a compilation CD titled Legacy: A Collection of New Folk. The first time I heard the John Gorka track "i Saw a Stranger with Your Hair" on that album, I became a John Gorka fan! That album also introduced Pierce Pettis, Cliff Eberhardt, David Massengill and Bill Morrissey to me – Thank You Will Ackerman!! Now flash-forward twenty-five years and we're all a little grayer, a few have left us (I still miss Bill Morrissey) and John Gorka is still writing great songs!! His new release Bright Side of Down has been in my Folk rotation for the last week or so and I think it's going to stay there for a while!!
Bright Side of Down is John's sixth solo release from Red House Records since his return to the label in 1998 and his first release in about four years! Now I said solo release that doesn't mean some labelmates of his didn't led their voices to the project because  Lucy Kaplansky, Eliza Gilkyson, Claudia Schmidt and Michael Johnson did just that! The website also says that "…. the collection resonates with the classic, "Gorka-esque" sound and lyrical insight that's earned him generations of devoted fans…" and I certainly agree with that statement! To me Groka-esque lyrics are those verses and choruses that stay with you long after the song is over like this one from "Bright Side of Down"
they say that time is slowed by speed,
but that's not the way it seems,
maybe the key is thoughtful deed
to open up the voices of your dreams
or how about this one from "Love is Our Cross to Bear"
Chorus: It's from me, it's to you
For your eyes
It's a weight, a wonder that is wise
I am here, you are there
Love is our cross to bear
Sometimes those lines come right at the beginning of the song, like this one. Of course this is the one my wife says is a song about me, at least this verse from "The Gypsy Life"!!
There is nothing in my head today
Nothing awful there to ponder or confuse me
Go ahead in what you have to say
And I will listen as I listen to the news
Finally one of the verses that everyone from my home state can relate too.
I'm from New Jersey
I don't expect too much
If the world ended today
I would adjust
I'm from New Jersey
No I don't talk that way
I watched too much TV
When I was young
So if you think i'd like an album full of 12 songs with verses like these check out Bright Side of Down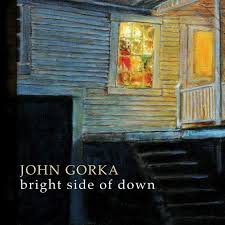 from John Gorka. The Associated Press says "Wry, slice-of-life observations reminiscent of Lyle Lovett and John Prine." only better I added that!!
Links
Website
Red House Records
Amazon
Here's John performing a song for his wife….."Outnumbered" from Bright Side of Down
)