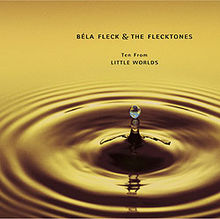 So the iPod was set on shuffle this morning as I set out to work on a stairway hall that I am getting se to paint and this is the resultant playlist – I think this playlist should be in the dictionary beside the word eclectic. What do you think?
1 Pineapple Heart – Bela Fleck and the Flecktones
2. Blue Drops of Rain – Corey Stevens
3. Six Feet Under the Ground – Michael Cleveland
So in in the first three songs there's one jazz banjo Virtuoso, one great blues guitarist, and a bluegrass fiddle virtuoso in Michael Cleveland a good start in mixing it up!
4 Mango Story – David Wilcox
5. Lydia – Dave Fields
6. Wind Me Up – The Contribution
In these next three we hear a funny story from David Wilcox's East Nashville Hardware album, a blues tune from Fields and tune from the Jam Band The Contribution
7. Every Day – Tinsley Ellis
8. Should've Learned By Now – Roger Creager
9. In My Eyes – Charlie Roth
Ok so it's back to the blues with Tinsley Ellis from Fire It Up, some Texas Country from Roger Creager and a very nice Americana song from Charlie Roth!
10. Caribou Dreams – Peter Kater and R Carlos Nakai
11. Sixteen Tons – Leon Russell
12. Be So Blue – Trent Somner and the New Row Mob
So a very nice instrumental from pianist Peter Kate and the great R Calos Nakai, a song from my young from Leon Russell. He can make those old songs his own can't he! And a seldom head tune from an Americana artist Trent Somner
13. Do Re Mi – Frank Hamilton
14 Harmonic Convergence – Steven Halpern
15.Fabio & Liubeace – Paul Thorn
Hey what can you say Frank Hamilton – knew and played with woody Guthrie! some new age music from Halpern and finishing with Americana's Paul Thorn!!!
So let's end this playlist and get back to work — how about another one from Paul Thorn – "Honky Tonk Neanderthal" performed on "The Tom & Bob Show"!!!