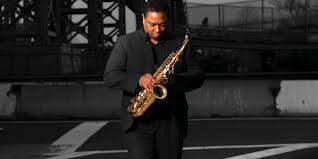 So the other day I wrote about the great Dexter Gordon, today I'll move to a contemporary  saxophonist, but still a great one – Vincent Herring. I've been listening to Herring's latest release The Uptown Shuffle for a couple of weeks now and I think I like it more and more each time I listen.
Herring is considered to be one of the premier sax players of his generation. He was born in Kentucky in 1964 and raised in California. His musical journey began when he started touring with Lionel Hampton's Big Band in 1980  He moved to New York in 1983 and for the next nine years he recorded primarily with Nat Adderley., which was a great fit for him since his sound was influenced by his idol Cannonball Adderley! But Vincent didn't just record with Adderley he also recorded with just a few other folks including: Cedar Walton, Freddie Hubbard, Dizzy Gillespie, Louis Hayes, Art Blakey and The Jazz Messengers, Horace Silver Quintet, Jack DeJohnette's Special Edition, Larry Coryell, Steve Turre, The Mingus Big Band, Kenny Barron, Nancy Wilson, Dr. Billy Taylor, Carla Bley, and John Hicks!! Like many jazz musicians Herring spends a lot of time educating future musicians,  He is on the staff at William Patterson University and conducts masters class and jazz workshops world-wide. You'll also find instructional e-books at his website and even take personal lessons on-line or via Skype!!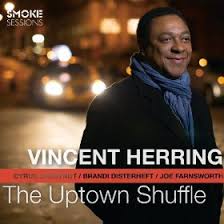 The Uptown Shuffle had my attention from the very first track an original composition "Elation". Herring's sax was smoking as was the piano of Cyrus Chestnut. Throughout the album the interplay between these two guys was great!! Not that the rest of the band wasn't great, because Joe Farnsworth on drums and Brandi Disterheft were rock steady, but Herring and Chestnut were just flat-out great.
As a result listening to the album., I did go and check out some music from both Chestnut and Disterheft!! Both of them have a new fan!!
The Uptown Shuffle, which consists of twelve tracks is a mixture of original compositions and jazz standards like "Tenderly", "Polka Dots and Moonbeams", and "Strike Up the Band"  All and All, it's a great listen and I can see it becoming a member of my permanent rotation for reading and writing at work!! '
So let's go "into the night" with "The Atholete" from the album…..oh, I forgot that the album was recorded Live at Smoke Jazz and Supper Club in New York and released on the new Smoke Sessions record label!! The label is doing quite well because Harold Maben's album Right on Time is #1 on the JazzWeek Charts for the fourth straight week and Herring's album sits at #7!
Links:
VincentHerring.com
AllMusic:
Vincent Herring
Wikipedia
Facebook