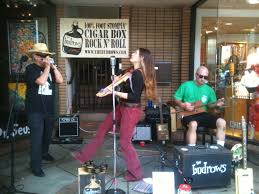 So I like musicians like Seasick Steve and Ben Prestage and others, who make music on handmade instruments. Now you can add the name Jason Farthing to that list. Jason is one-third of the band The Budrows, who classify their music as "Home Made Cigar Box Swamp Rock and Roll" or "100% Foot Stompin' Cigar Box Rock n' Roll". Farthing set out to build his first cigar-box guitar after seeing a picture of one in an antiques magazine. First he got a cigar box from a friend and then he gathered what he thought he needed and set about making one – instructions were not included! He was surprised, when the first one worked, and soon he was making another and perfecting his craft! After making a few guitars, the Drawing and Graphic Design student (at Colorado State University) came out in him, and he realized, that he could use the box top as a canvas and create playable art and that's just what he did!! Here's an example of his work!! You can see more here at soundboxguitars.com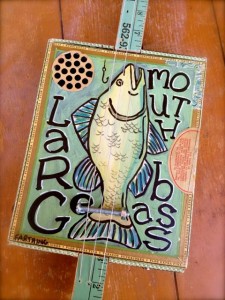 When he began showing the guitars at art galleries, he would also play them, to show people that they were actually playable. This was the beginning of The Budrows. Soon after he started to build and play the guitars, he encouraged his step-daughter Macarena Rivera to sing along to some of Jason's favorite songs and before long they were writing and playing their own songs, as they were showing the cigar box guitars. The final third of The Budrows, Jesse Boden joined the band, after being a star student, in Macarena's mother.Spanish class.Jesse wanted to meet and hear Jason and Macarena because he was a musician, too. At an impromptu jam session at Jesse's house, which was just around the corner from the Farthing's house, Jesse pulled out his flute and began playing along, soon it was discovered that Jesse could also play harp and thus he became the third member of The Budrows!!So now The Budrows were complete with; Jason playing cigar box guitar, gas can banjo, suitcase kick drum/tambourine;. Macarena adding vocals, washboard, tambourine,and shakers; and Jesse Boden providing harmonica and flute and the result for me is a true "Americana" band (so what if Macarena was born in Argentina!).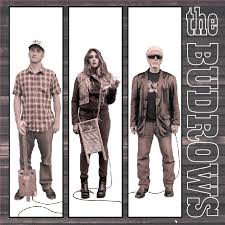 Their self-titled début album is full of great homemade music and I for one love it!. Who can't help but love music with song titles like "Blood, Guts and Gasoline", "Last Likker Run" and "Pass the Whiskey".The album even ends with an instrumental  "Campfire Song"!Watching a few of their videos, it seems that the band has a good time playing their home-made swamp rock 'n roll! Here they are playing the aforementioned "Blood, Guts and Gasoline"….