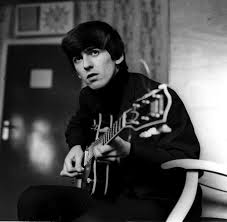 On this day in 1943 in Liverpool, the youngest member of the Beatles, George Harrison was born in Liverpool! I don't think a can really tell anyone anything new about George, so I'll just pass on some interesting things that i read this morning about this music who was part of probably the most influential band ever!!
One of the first items that I read got me to thinking about how much of rock music is a blending of all musical genres.From this paragraph we see that George early in his musical journey was influenced by a bluesman,a Gypsy music guitarist, a County music guitarist and a black rock and roll artist.and then later, by the music of India. From Wikipedia:
Harrison's earliest musical influences included Big Bill Broonzy, George Formby and Django Reinhardt; Chet Atkins, Chuck Berry and Ry Cooder were significant later influences. By 1965 he had begun to lead the Beatles into folk rock through his interest in the Byrds and Bob Dylan, and towards Indian classical music through his use of the sitar on "Norwegian Wood (This Bird Has Flown)". He developed an interest in the Hare Krishna movement and became an admirer of Indian culture and mysticism, introducing them to the other members of the Beatles and their Western audience by incorporating Indian instrumentation in their music
By the time The Beatles were recording  Sgt. Pepper's Lonely Hearts Club Band in 1967.George was tiring of the band and was really focused on the music and culture of  India.. Again from Wikipedia:
His sole composition on the album was the Indian-inspired "Within You Without You", to which no other Beatle contributed.[39] He played sitar and tambura on the track, backed by musicians from the London Asian Music Circle on dilruba, swarmandal and tabla.[40][nb 4] In 1968 his song "The Inner Light" was recorded at the EMI Studios in Bombay, featuring a group of local musicians playing traditional Indian instruments.[42] Released as the B-side to McCartney's "Lady Madonna", it was the first Harrison composition to appear on a Beatles single.[42] Derived from a quotation from the Tao Te Ching, the song's lyric reflected Harrison's deepening interest in Hinduism and meditation, while musically it embraced the Karnatak discipline of Indian music, rather than the Hindustani style of his previous work in the genre
So, while I could play any number of great Harrison songs, the first one that came to mind this morning after a weekend with no water (leaking hot water heater) and no sewer (blockage n line) that were fixed yesterday was "Here Comes The Sun" and even though we still have other problems, this morning is a bit sunnier knowing we have hot water!  From Wikipedia here's a little about Harrison and the song…..
"Here Comes the Sun" was written at the time when Apple was getting like school, where we had to go and be businessmen: 'Sign this' and 'sign that.'  Anyway, it seems as if winter in England goes on forever, by the time spring comes you really deserve it.  So one day I decided I was going to sag off Apple and I went over to Eric Clapton's house.  The relief of not having to go see all those dopey accountants was wonderful, and I walked around the garden with one of Eric's acoustic guitars and wrote "Here Comes the Sun."[1]

As Clapton states in his autobiography, the house in question is known as "Hurtwood."  When interviewed in the Martin Scorcese documentaryGeorge Harrison: Living in the Material World, Clapton said he believed the month was April.  Data from two meteorological stations in the London area show that April 1969 set a record for sunlight hours for the 1960s.  The Greenwich station recorded 189 hours for April, a high that was not beaten until 1984.  The Greenwich data also shows that February and March were much colder than the norm for the 1960s, which would account for Harrison's reference to a "long, cold, lonely winter.
So George "Happy Birthday" and we all wish the you had been up on that stage a couple of weeks ago with Paul and Ringo!! And let's hope "Here Comes the Sun"!