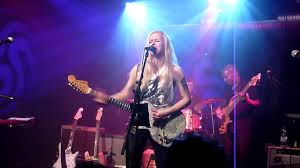 So right now Christina Skjolberg may be one of Norway's best kept secrets, but after this years Blues Caravan  Tour rolls across Europe and around the world she may not be. Skjolberg is a dynamite blues woman who Ruf Records has signed and released her début album Come and Get It!
The left-handed young female guitar wiz was born and raised on  the island of Smøla outside Kristiansund on the northwest coat of Norway.She has been playing guitar since she was twelve and was inspired by fellow lefty Jimi Hendrix. Night after night Christina would wow them at clubs across Norway, where she caught the eye of Thomas Ruf Records who saw her talent signed her and paved the way to her début release and a spot on his Blues Caravan 2014. Accompanying he on the Caravan are fellow blues artists Albert Castiglia and Laurence Jones, and her band composed of Brynjulf Blix on Hammond B3 organ. Blix has been playing Blues, Jazz and Rock across Norway with various bands for the last 40 years!, and Tore Slåttsveen who plays rhythm guitar and provides background vocals. Like Blix, Tore has played across Norway with various bands like Little Andrew & the Blue Masters, Triple T and The Mojo Workers.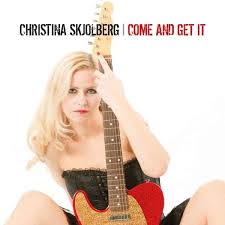 Come and Get It is a great album, Christina's guitar is smoking when it needs to be and her vocals are hard-rocking or sultry when the song calls for it. Blix on organ really is an added bonus on several tracks!! All in All the album is a winner and I'm confident that you'll be hearing a lot more from Ms. Skjolberg in the future!!
Links

Artist Website
Ruf Records
Facebook
MySpace
Here's a performance by Christina on Blues Caravan 2014 at the Musiktheater Dortmund Germany
s