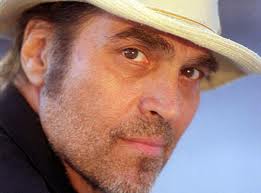 So today is  the birthday of one of my favorite folk singers, Eric Andersen.(1943) Eric was one of the early pioneers of the Greenwich Village folk music scene, along with Tom Paxton, Tom Rush,  Fred Neil, Dave Von Rank and many others. He made his début in 1964 at Gerdes Folk City in a live audition for Vanguard Records.   I didn't really start listening to Eric until his most commercially successful album Blue River was released in 1972. "Is it Really Love at All' is still a favorite. But as soon as I heard Eric's music I went back and picked up The Very Best of Eric Andersen on Vanguard Records and learned to love those early songs like "Violets of Dawn", "Come to My Bedside" and many others, including "Thirsty Boots"
Little was heard from Andersen from late 70s, until 1988 when he popped back into the American music scene with the release of Ghosts on the Road. Between the release of Ghosts on the Road and 199's Memories of the Future, when I picked up his career again, he was living and recording albums in Norway  with Rick Danko and ,Norwegian musician Jonas Fjeld as Danko/Fjeld/Anderson and they were an award-winning band, releasing Danko/Fjeld/Andersen in 1991 and Ridin' on the Blinds in 1994. The former album is in my music library.
In 2004 he released :The Street Was Always There  and followed that album with Waves in 2005, multi-instrumentalist Robert Aaron produced both albums. On the albums Andersen covers of his own songs and provides  new versions of classics by his sixties contemporaries and friends, including: David Blue, Bob Dylan, Richard Fariña, Tim Hardin, Peter La Farge, Fred Neil, Phil Ochs, Buffy Sainte-Marie, Paul Siebel, Patrick Sky, Tom Paxton, John Sebastian, Happy Traum, Lou Reed, and Tom Rush.
You can read his complete biography at Wikipedia: Eric Andersen
But let's go back now to one of those early songs and go "Into the Night" with "Thirty Boots" from Eric Andersen on his 71st birthday!!