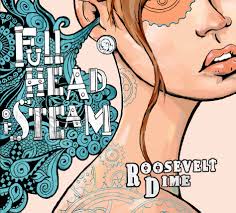 So I just saw this band Roosevelt Dime and their new CD Full Head of Steam on the Alternate Root 66 Airplay Chat this morning The album debuted at number 45 on the chart!! I listened to a little of the music and downloaded it onto the iPhone. I will listen to some of the tracks to and from work at Target tonight! Here's what they say about their music on their Facebook Page….
Imagine yourself relaxing on a steamboat as it lazily floats down the Mississippi River all the way to The Big Easy. Suddenly, the band strikes up a tune, music fills the air and everyone is on their feet, clapping, dancing and singing along.

Welcome to the world of Roosevelt Dime, a five-piece, Brooklyn, N.Y.-based band that blends elements of acoustic jug-band blues, classic New Orleans soul and neo-folk to create an original sound best described as Kings County Steamboat Soul. The band's nontraditional lineup — consisting of banjo, electric and washtub basses, percussion, trumpet and woodwinds — and seamless mixture of musical genres has been described as "a perpetual crowd-pleaser" by the New York Times.
So let's go "into the night" with Wishing Well" from Roosevelt Dime….