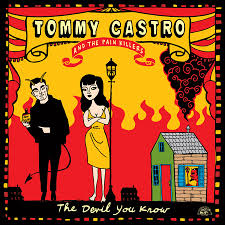 Sometimes my first impressions suck! See I once said after the première of the TV show Cheers that it was pretty good except I wasn't sure about the theme song! And I said that I didn't know how long they could keep up the premise of the TV show Perfect Strangers! How about for eight seasons!! And after the first listen to The Devil You Know, the new release from Tommy Castro and the Painkillers I wasn't sure if it was that good! Hey, it's very, very and maybe a few more verys, good! I think that on the first listen, first I didn't listen that closely, but second it sounded a little different from the Tommy Castro that I've been listening to since the mid to late 90s, At his website Tommy explains it to me……
"For the new album I challenged myself to add different sounds and new rhythms to my style while remaining true to my roots. I wrote using ideas for songs and ideas for sounds together in a way I'd never done before," explains Castro, "using drum rhythms to drive the lyrics."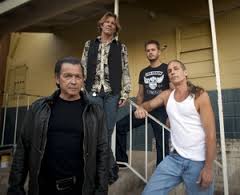 Of the 13 tracks on the album nine were written or co-written by Castro, Castro is backed on the album by the Painkillers, who he introduced in 2012, composed of bassist Randy McDonald (from the original Tommy Castro Band), keyboardist James Pace and original Painkillers drummer Byron Cage.Castro says this about the Painkillers….
"The Painkillers really get me back to my roots. It feels to me a lot more like it did when I first started playing with my friends as a kid. Bands were always just three or four guys playing for the fun of it,
It was on the second listen that I heard a second voice on one of my favorite tracks "When I Cross the Mississippi" – it was the voice one of my favorites Tab Benoit!! What I missed though were all the others that were added their talents to the album, that list includes: Marcia Ball,The  Holmes Brothers, guitarists Joe Bonamassa and Mark Karan, vocalists Samantha Fish and Tasha Taylor and harmonica player Magic Dick!
Anyway, you mix all this together and you can see why the former B.B. King Entertainer of the Year may just win that title again!!
The last to tracks on the album are "That's All I Got" and "Greedy". These two tracks are bonus track on the new album! They were recorded back in 2012 and were released as a 45rpm single."Greedy" has became one of Castro's most-requested songs and the video for Greedy has received over 160,000 views on YouTube!!  So let's adds some more,…..