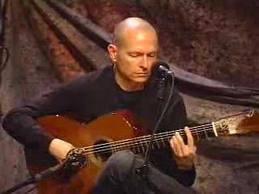 Today is the birthday of one of my favorite acoustic guitarists Ottmar Liebert. From Wikipedia: Ottmar..
….was born February 1, 1959 in Cologne, West Germany to a Chinese-German father and a Hungarian mother. As a child, he spent most of his time traveling throughout Europe and Asia with his family. He began playing classical guitar at 11, and flamenco guitar at 14, after he "found a Flamenco LP in the bargain bin at a local supermarket".[1] After performing rock music in his native Germany, he moved to the United States and settled in Boston for a few years, performing in various rock clubs.[2] In 1986 Liebert settled in Santa Fe, New Mexico, where he began looking to create a new musical sound...Read More
And what a new sound he and his band Luna Nigra have created. Building on influences such as "Carlos Santana, Paco de Lucía, John McLaughlin, Robert Fripp, and Jeff Beck, Ottmar has created a music that is not Flamenco in the strictest sense because it doesn't follow the song forms, "compas" or techniques. He has labeled the music "New Flamenco." or "Nuevo Flamenco". Personally, I don't care what you call it, all I know is that it is great music, and I think that the general public agrees with me. Liebert has received five Grammy Award nominations, and 38 Gold and Platinum certifications in the United States, as well as certifications in Canada, Australia, and New Zealand. His début album Nouveau Flamenco (1990) is a double-platinum album in the United States!! Often when I am working away at work on a project that needs writing verses CAD or calculations, Liebert's music is playing in the background. It's the same when I'm at home relaxing with a good book!! Links: Website: http://www.ottmarliebert.com/index-flash.php: Wikipedia: http://en.wikipedia.org/wiki/Ottmar_Liebert AllMusic:http://www.allmusic.com/artist/ottmar-liebert-mn0000157377 So let's kick off a relaxing Saturday morning with Ottmar and Luna Nigra and a performance of "Snakecharmer"."Happy Birthday" Ottmar!!