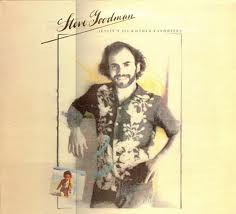 This morning I was thinking about what to use for the morning music and one of the songs that popped into my head was one of my all time favorites, Steve Goodman's version of Michael Smith's poignant "The Dutchman". Then I thought no, how about Steve's version of "Mama Don't Allow"  Yeah, that's what I use! I went to YouTube and found the video and watched it. As I was watching, I thought about the book Mama Don't Allow by Thatcher Hurd. I used to read my kids way back when.. The book had been featured on the show Reading Rainbow (starring a young Levar Burton),  and everyone in our house loved it!! I found and  watched portions of the show on Vimeo. (lucky for Peter that Andrew didn't get to name him, or his name would have been Levar Sam Karn!!)
Anyway back to Steve Goodman. Steve along with John Prine was a favorite of mine back in the 70s, hell he's still a favorite today and me along with everyone in the folk music community mourned his passing in 1984 when he lost his battle with leukemia at the age of 43. What I decided though was not to just play "Mama Don't Allow" although that we be coming, but to also write about the album that the song can be found on, :Jessie's Jig and Other Favorites..
Jessie's Jig and Other Favorites was released in 1975 and contains some of my favorite Goodman tracks.Of the ten tracks on the album, six were either written or co-written by Goodman. One of the co-written songs starts the album. "Door Number Three" co-written by Jimmy Buffett. I love this version as well as the Buffett version which appears on his album A-1-A. The lyrics always bring a smile to my face, especially….
I chose my apparel, I wore a beer barrel 
And they rolled me to the very first row 
I held a big sign that said, "Kiss me I'm a baker 
And Monty I sure need the dough" 
Then I grabbed that sucker by the throat until he called on me 
'Cause my whole world lies waiting behind door number three…..
The second track is a John Prine classic "Blue Umbrella"  On this song it's the chorus that always gets me
Blue umbrella
rest upon my shoulder
hide the pain
while the rain
makes up my mind
well, my feet are wet
from thinking this thing over
and it's been so long
since I felt the warm sunshine
just give me one good reason
and I promise I won't ask you any more
just give me one extra season
so I can figure out the other four.
Don't we all wish that! The humorous Goodman tune "This Hotel Room" is next, followed by Goodman's cover of Michael Smith's "Spoon River"  which is based on the Edgar Lee Master's book Spoon River Anthology. The title track the instrumental "Jessie's Jig" follows at the midway point of the album.
Steve always had a way of taking old classic's and reworking them so that they became a Steve Goodman song and there's no better example of that then Steve's cover of Billy Mayhew's "It's a Sin to Tell a Lie". The song fits Steve like a glove. It's a song he was meant to sing! Of the next three tracks, two were written by Steve "I Can't Sleep" and "Looking for Trouble". Both are great songs. The other track is "Moby Book" which Steve co-wrote with David Amran. Here's my attempt at a video for the song!!
And finally, we arrive at the final track, which sends us off at the end of the album with a smile on our face singing "Mama Don;t Allow, no piano playin' 'round here!! So check out the album at either MOG or Spotify!!
Here's Steve Goodman's version of Cow Cow Davenport's "Mama don't Allow"!! And Steve will still miss you!!