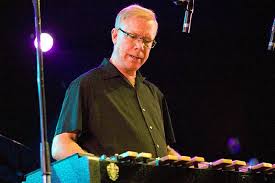 On this date in 1943, the great vibraphonist and one of my favorites Gary Burton was born in Anderson, Indiana. Whenever I have "One of those days" it's usually the vibes of Burton that bring me back to a happier and more relaxed place. Some background and information on Burton from Wikipedia:
Beginning music at six years old, Burton for the most part taught himself to play marimba and vibraphone.[2] He also began studying piano at age sixteen as he finished high school in Princeton, Indiana (56–60). Burton has cited jazz pianist Bill Evans as a main inspiration for his approach toward the vibraphone.
Burton developed a pianistic style of four-mallet technique as an alternative to the prevailing two-mallet technique. This approach caused Burton to be heralded as an innovator and his sound and technique are widely imitated.[1] He is also known for pioneering fusion jazz and popularizing the duet format in jazz, as well as being a major figure in jazz education due to his 30 years at the Berklee College of Music
Burton received the first of many awards in 1968 when
Burton was named Down Beat magazine's 'Jazzman of the Year' in 1968 (the youngest ever to receive the title) and won his first Grammy award in 1972. The following year Burton began a now 40-year-long collaboration with pianist Chick Corea,[4] recognized for popularizing the format of jazz duet performance. Their eight recordings together won the pair Grammy awards in years 1979, 1981, 1997, 1999, and most recently in 2009, for The New Crystal Silence and in 2013, for Hot House. Burton has a total of 21 Grammy nominations and 7 Grammy wins. Full Biography
Most of the Burton albums that are in my library are from either the very early 90's Reunion, Cool Nights. and Six Pack or after 2001's For Hamp, Red, Bags, and Cal, which is my favorite Gary Burton album. After listening to Burton the other day I did listen to his début album New Vibe Man in Town. After listening to the album, I can see why the jazz world was impressed by Burton right from the start. From Scott Yanow at AllMusic:
Vibraphonist Gary Burton's debut as a leader shows that he was a brilliant player from the start of his career. Utilizing a sparse trio that also includes bassist Gene Cherico and drummer Joe Morello, Burton even at this early stage sounds quite original and unlike his predecessors (Lionel Hampton, Red Norvo and Milt Jackson) Read More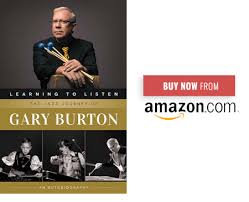 Gary's autobiography Learning to Listen:The Jazz Journey of Gary Burton has recently been released and I am looking forward to reading the Book. But for now let's say "Happy Birthday, Mr. Burton and give a listen to the New Gary Burton Quartet play "Bag's Groove"…..
/center>